Staying Busy Through High School
 Students participate in various extracurricular activities to keep themselves busy and involved in the school community. Senior Lydia Derks is no exception, participating heavily in both choir and rowing throughout her middle and high school career.  
  Derks has been rowing for three years, but first tried the sport when she was younger. 
  "I did a summer camp in middle school and I liked it so that got me started," Derks said.
  In addition to rowing, Derks is also involved in the choir program and has been since middle school. 
  "I've known Lydia for five years, though I've only been her teacher for the past two. Lydia has been a member of the West Choir Program since sixth grade," choir teacher Erich Wangeman said. 
  Being in choir was not as time-consuming as rowing, but was still challenging with her schedule. 
  "Choir is still challenging but it's not too big of a burden," Derks said. 
  After so many years of choir, Derks has greatly improved not only with her choir skills and voice, but also her skills as a student. 
  "Lydia has grown tremendously over the past four years. Though she has always been an exceptional singer, she has truly honed her skills as a performer and musician," Wangeman said. "Her voice has grown into a beautiful, rich, resonant alto and her sound is the predominant tone of her section." 
  Choir has also led Derks to grow in her ability to communicate with others, leading her to be a better leader, and help with the direction and improvement of others in the choir program. 
"Lydia is an exceptional leader. She is encouraging and approachable and inclusive of others.  She is empathic, but also 'no-nonsense' enough to problem solve when leadership is required," Wangeman said. 
  Her past four years have been challenging but fun, and now she plans to continue her education further in Houghton, Michigan. 
  "I'm going to Michigan Tech in the fall for an engineering management degree. I'm not sure what I'm doing after, just where my degree leads me," Derks said. 
  As far as extracurriculars, Derks is not planning to continue choir, but may continue rowing, 
  "There is a club at Michigan Tech and I might but it depends on how school goes," Derks said.  
  As Derks reflects on her past years of high school, she had her difficulties and strengths but her favorite year was the one said to be the hardest. 
  "I would say my favorite was junior year, except for COVID, but I like all my teachers every year," Derks said. 
  As the seniors leave the school, it is evident that Derks affected her friends, teachers, and the programs she was involved with. 
  "Students respect and admire Lydia and she has made a huge impact on the choir program," Wangeman said. 
  Derks' advice for the incoming seniors class is to keep up with your work and have a good balance of school and fun so when senioritis kicks in, you won't struggle. She also encourages students to be persevering so they can end the year strong. 
  "Audition for that solo, try out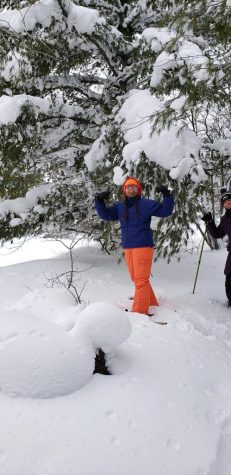 for that spot on the team, and spend time with your friends and family, because you'll be leaving sooner than you think. It's always better to look back and know your accomplishments than to have regret for missed opportunities" Derks said.