Students Protest Inequality At West
  On June 1, a planned demonstration took place outside of the school's main doors. Students sought to highlight the discrimination and prejudice those in the LGBTQ+ community and people of color feel here at school. The protesters felt that the administrators and staff here at school had not taken the proper steps to combat the issue which is why they wanted to take a stand and show their support. 
  "Any types of discriminatory actions we are protesting against. There has been discussion about solving these problems but nothing has really gone towards it," freshman Marie Streadwick said. 
  The students have felt and witnessed the impacts of discrimination against them here at school, as they often hear slurs and derogatory language directed at them. 
   "Not until just a few months ago I only saw myself as an ally, but I always noticed my friends just being excluded from things or called horrendous names and the staff doesn't really do much because telling them 'hey don't do that' just makes students want to do it behind the adult's backs," junior Ayla Weldon said. 
 The protest was mainly created due to the yearbook misnaming people who identified with different names otherwise known as "deadnaming." In a definition by Dictionary.com, they define deadname as "the birth name of someone who has changed it. The term is especially used in the LGBTQ community by people who are transgender and elect to go by their chosen name instead of their given name."
  "In the yearbooks, people were called by their dead names instead of names they prefer to be called and I see that as a super easy thing to solve but they still refuse to and that itself shows adults discriminating or at least makes us feel discriminated against," Weldon said. 
  A group of students saw that they were "dead named" in the yearbook and it made them feel angry as since that was no longer their identity, it made them feel disregarded as a person. The yearbook responded to the claims with a statement from the advisor, Melissa Clone.
 "Please understand that myself, the yearbook staff, and WSH fully acknowledge all preferred names, and this error was not intended to be an exclusion of any kind or to cause harm," Clone said.
  Students feel that it should be a formality to ask for pronouns and names at the beginning of the year to prevent errors like this from occurring. 
  "My math teacher asked if we wanted to go by a different name, she was very respectful about people changing their preferred names throughout the year," sophomore Arianna Roman said.
 The mistake in the yearbook was due to time constraints that occurred earlier in the year when names were being noted.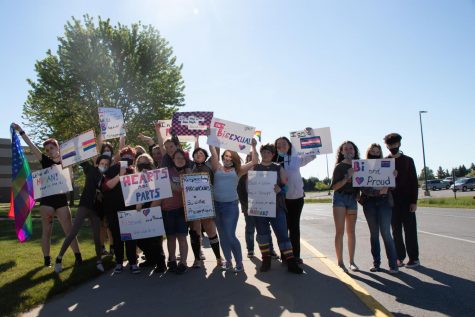 "We have a process in October and November for noting preferred names in the yearbook and we fell short with that process this year while we were in remote learning," Clone said.
   Students feel that respecting one's pronouns is important to helping them identify themselves how they choose. A study done by the Journal of Adolescent Health, found that when peoples preferred names and pronouns were used there was a 34 percent decrease in suicidal thoughts and a 65 percent decrease in suicidal attempts. 
  "Neopronouns should be respected, names/pronouns are the lowest forms of respect, and no matter how much you dislike someone you should always respect one's names and pronouns that they choose," freshman Oscar Moore said. 
  Forty percent of transgender and nonbinary youth reported being physically threatened or harmed in their lifetime due to their gender identity, and 30 percent of LGBTQ youth reported being physically threatened or harmed in their lifetime due to their sexual orientation said a survey done by The Trevor Project.
  "We're here, we're queer and we may have a little fear of the people here, but we're not going to stand for this any longer because we're sick of being afraid in our own skin and to come into school every day. Everyone should only be worried about learning at school," Streadwick said.