Local Rowing Teams Fire Up for The Fall
  Though autumn has just barely grasped the edges of the calendar, the sky has already grown darker and the air more frigid. Yet, in spite of the rougher weather ahead, local athletes are preparing for a season of conquering the water.
  With all of the excitement surrounding football and soccer seasons, not many people think of rowing when they think of fall sports. However, rowing is more popular than one might think in our community. In fact, rowers from the Traverse City Tritons and Lake Leelanau Rowing Club (LLRC) are both hosting their own head races this October at the Boardman Lake and Lake Leelanau, respectively.
  "[Head races are] like a longer race, so this year we are racing 3000 meters," sophomore Lily LaFaive, a rower for TC Tritons, said. "So, in the fall they're longer and the spring, shorter."
  The TC Tritons will be hosting Head of the North on Oct. 9 on Boardman Lake. LLRC has scheduled their regatta, the Leelanau Chase, on Oct. 10 at Historic Fountain Point Resort on Lake Leelanau. Unlike last year, LLRC's regatta will be open to spectators.
  The coronavirus pandemic took a lot from everyone last year, and the rowing teams were not immune to shutdowns.
  "It's hard to predict without being competitive for two years," Viktor Grebennykov, head coach of LLRC, said. "Two years ago, we got third in the inclusive double and the junior pair so I'm expecting similar to that and maybe a medal in the junior U17 and U19 single."
  Both teams have been training extensively to compete with bigger teams from downstate and also more local competitions. When asked who their biggest competition was in the upcoming season, there were varied answers.
  "Definitely Skyline in Ann Arbor," senior Emma Ellis, from TC Tritons, said.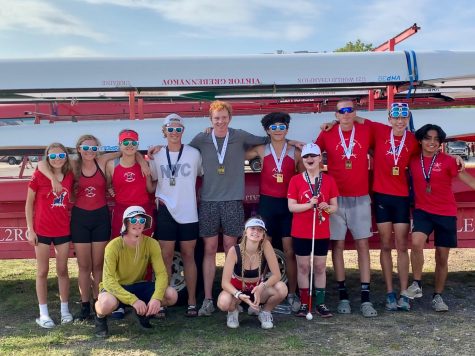 While the Tritons are concerned about Skyline, LLRC, who does not compete in scholastic competitions, weighed in with their thoughts on the upcoming competitions.
  "Well, we don't need to worry about anyone," the LLRC coach said. "[But] East Grand Rapids is a strong team. There are many other teams who are really competitive."
  Yet, our local athletes are not ones to back down from a challenge and the work they've put in this year reflects that.
  "We do a lot of drills and pieces, where we cycle through a list of drills and exercises which are endurance and sprints," Ellis said.
  Along with on-the-water exercises, they also participate in work-outs off the lake to get them ready for their regattas. These workouts include practicing on rowing machines, or ergs, and other weight and core training exercises meant to simulate work on the water.
  "We row every day and if it's too windy then we will go on the ergs to practice and we also do warm-ups before we go row," LaFaive said.
  The TC Tritons rowing team has been practicing since late August to get ready for their season so they can put in their best.
  "We have some really good lineups to be sent out for races, and I think we can have some success next year," Ellis said.
  The Tritons made it pretty far in competitions last year, so they hope they can have the same results in the upcoming season.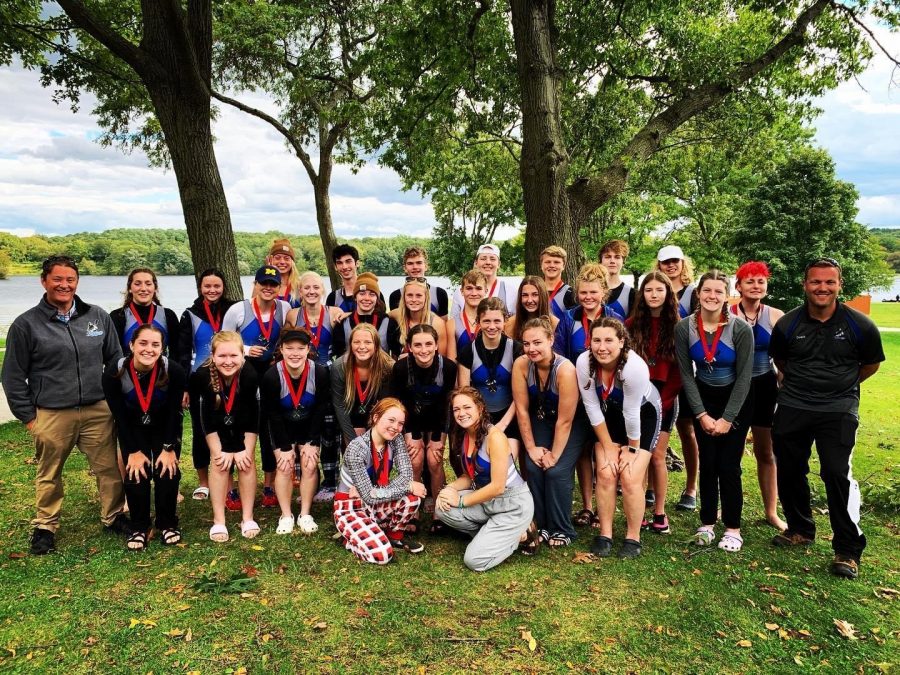 "In the spring [the women's 4+] were undefeated so it would be awesome if that could happen again," Ellis said.
  Both of the local teams have high expectations for themselves, but they also see each other as promising competition.
  "I would like to race [the Tritons], I understand that we are competitive with each other," Grebennykov said.
  From the Tritons' side, they also see the LLRC as potential competition in their upcoming regattas.
  "The [LLRC] have some super good people over there so I think they are big competition," Ellis said.
  Though our local teams have no races planned against each other this season, there is still a lot to look forward to, such as other regattas. Specifically, the Head of the Hooch and Head of the Charles, two of the biggest head races in the country. The Head of the Charles will be raced in Cambridge, Massachusetts in late October, while the Head of the Hooch is in Chattanooga, Tennessee in early November.
  "We're going to the Head of the Hooch. We've qualified for Head of the Charles, that's exciting," Grebennykov said.
  Both teams have worked hard up to this point and hope that they can put in their best out on the water. But, regardless of where our athletes go, they seem to agree that one of the best things about this season is the bonds between teammates and how much they enjoy the sport.
  "I just like how everyone knows each other really well, and everyone's friends, and it's a really close environment," sophomore Maddy Pawlowicz of LLRC said.
  The same thing goes with their neighboring team on Boardman Lake.
  "I like being in a boat with other people and the bonding and the community," LaFaive said.
  There is something undeniably sacred about the relationship between crewmates, a community that goes beyond the typical team sport. Every minute motion in the boat is dependent on every individual. Each limb that moves, each breath taken, it's all connected. Any victories that may happen this year for either team, happened because everyone worked together.