Dig Pink Game Raises Money for West Alumna Diagnosed With Breast Cancer
Popular Pink Game raises $1500 and counting for former Titan
  Green and gold aren't the only colors at West Senior High, as on one day in October, the sports gymnasium becomes packed with the color pink. The annual Dig Pink volleyball game, or commonly known as the Pink Game by students, aims to help those with breast cancer live longer, healthier lives as they continue their fight with the devastating disease by donating money raised for research and clinical trials on patients.
  "It's just a way to give back to breast cancer awareness and give them the opportunity to do research and give to whoever they need to," head volleyball coach Emily Baumann said.
  This Dig Pink game was different, however. The game's donations are usually donated to a specific organization called The Side out Foundation, a non-profit organization that raises awareness and funds for the treatment of breast cancer. In contrast, this year's donations were given to Jennifer Bedford, a West alumna who used to play on the team and was recently diagnosed with breast cancer herself.
  "My former teammate back when I played, and we went to the state finals, she was my setter and was just diagnosed with breast cancer and her mom had posted something on Facebook about it. We had already done the Dig Out Foundation, so we were like I wonder if there is something we can do specifically do for her," Baumann said.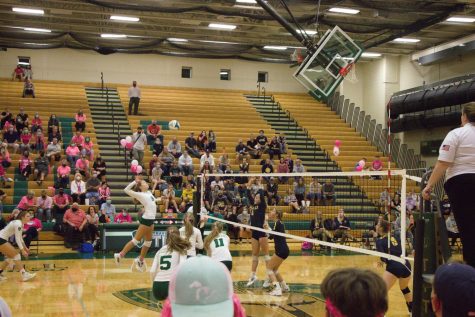 Held on Oct. 7, Bedford's family attended the game in her stead, and the plethora of donations such as t-shirts, pom poms, and concession sales all have been donated to the family. The total donations currently sit at $1500 and concession sales are still being counted.
  "She was able to watch on Facetime so that was awesome [and] I got to talk to her afterward. Just to be able to do something like that honestly I can't even tell you what it meant, it warmed my heart so much," Baumann said. "She's a Titan. Once a Titan, always a Titan is what we say."
  West won the game dealing a three-strike knockout to the opposing team of Gaylord winning all three sets. Currently, the Titans are 16-1 and 7-0 in the Big North Conference.
  "I think it went okay. We didn't play as well as we could have but I think that we got the job done," senior Becky Lane said.
  Last year, the team went all the way to the regional finals, and with teamwork and dedication, they expect to do even better this season.
  "I really liked how well we did last year. We went all the way to the regional finals and I just have such confidence for this team and I think we'll go a lot farther," Lane commented.
  But the team is more than just winning. To them, the bonds they have made with their fellow teammates, as well as the memories, are just as important.
"
It was a special night and turned out amazing and I'm just so glad that we were able to do something for a former Titan and I'm very proud of that,
— Baumann
  "Yeah, we were undefeated in the conference. But it's just been super fun to play with people that I love so much and to do so well with them," senior Madison Neu said.
  While every Dig Pink game is important, this year added a personal twist that set it apart from the other games in school history. Despite years since her graduation, Bedford is still very much a part of the community and can always rely on her teammates, both old and new.
  "It was a special night and turned out amazing and I'm just so glad that we were able to do something for a former Titan and I'm very proud of that," Baumann said.