"tick, tick… BOOM!" From Broadway Musical to Netflix Top 10
"tick, tick…BOOM!" revives Jonathan Larson's life and brings to light the struggles of the AIDS epidemic in the late 1900s
  Tick, tick, tick. For young people, this sound evokes feelings of apprehension, knowing the metaphorical clock is ticking and thinking that there is so little time to make your mark. "tick, tick… BOOM!" recounts the story of young theater composer Jonathan Larson, well known for his Tony-award winning musical "Rent" and his exploration of social issues previously untouched by the theater world. His own struggle with running out of time is a major theme in the movie, as he felt late to the party next to theater greats who saw success in their early twenties. Though he died unexpectedly at age 35 from an aortic aneurysm, he achieved that same success as his work still heavily influences modern musical theater. In the movie, actor Andrew Garfield plays Larson, singing songs directly from the musical, "Tick, Tick, Boom!", the movies' namesake, which Larson composed. Many viewers were pleasantly surprised by Garfield's singing ability, who is not known for taking singing roles. Garfield clearly did his homework—his mannerisms and singing style mimic Larson's own very accurately.
  As Lin-Manuel Miranda's debut directorial role, he displays his skill through clever choices like the juxtaposition of emotional scenes from Larson's life with songs from his musical. This is especially apparent in the song "Therapy", as scenes of Larson and his girlfriend in a heated argument are spliced with a performance by him and his performer Karessa, played by Vanessa Hudgens, who sing in an exaggerated and jovial manner.
  The tragic events of Larson and his friends' lives, many of whom experienced premature deaths during the AIDS epidemic, are covered in a very tasteful and thoughtful way. Larson and his best friend in the musical, Michael (a character based on his real-life childhood best friend, Matt O'Grady) played by Robin de Jesús, had a close friendship that could possibly have used more background or integration into the story.
  The abrupt ending was initially shocking, but soon seemed fitting, as it closely paralleled the abrupt nature of Larson's death the night before the first showing of "Rent" on Broadway. Though some closure could have given the movie a more traditional feel, the stark closing leaves the viewer some time to stew in the reality of the composer's grave story.
Leave a Comment
About the Contributor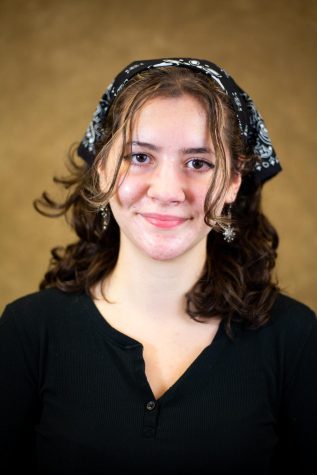 Anna Childs, School News Editor/Columnist
Anna Childs is a senior who has just joined the newspaper staff this year. Anna joined the newspaper staff to improve her graphic design skills and gain...