Misogynistic Comments Begin to Wear Down Female Athletes
Female athletes speak out against the misogynistic comments made by their own peers
  It's a Friday night and the gym is filled with hundreds of Bleacher Creatures decked out in costumes for the men's basketball game, they erupt in cheer after every basket, perform memorized chants, and rush the court to celebrate the win. It is the kind of night they will all remember long after their time here at school, especially the players. But if we go back a few hours, for the girl's basketball game, the scene would look wildly different. Fewer students, quieter cheers, and more criticism. 
   In the past month, the critical comments about women's sports seem to have reached a peak. Junior Ainslee Hewitt, a varsity basketball player, recounts her experience playing in the "Oxford Strong" game on Feb. 4 at Central High School, and how members of her team overheard comments from the student section while they were playing. 
   "The student section was right behind [our bench] and the entire game they were saying things like, 'girl's basketball isn't even that good,' 'they suck,' and that the people in the student section could do 'better than us.' It got to the point where my teammate and I had to turn around and tell everyone to be quiet, it was that bad," Hewitt said. 
   Senior Ally McKenna, another member of the women's varsity basketball team, felt the tension on both the sidelines and the court. These negative comments weigh down on the athletes, more than students realize.
"
Sometimes it feels as if [the students] don't even want to be there,
— A. McKenna
   "We all get super frustrated and down on ourselves when we hear [negative comments]. The game is a lot harder than it looks, and hearing those comments while playing, especially when they are coming from your peers, doesn't make it any easier. Sometimes it feels as if [the students] don't even want to be there," McKenna said. 
  Most of the time, the team is not impacted by the comments but by the lack of any cheering at all. Senior Megan Lautner explains that since the girl's and boy's teams are usually away for each other's games, the girls rely on the students not participating in the sport to show up for support. 
   "West has always been known to have a huge student section compared to the rest of the schools in the [Big North Conference]. But for the girl's games, they are all ridiculously small. At our last home game there were only four Bleacher Creatures who showed up," Lautner said. 
    Although Senate tries to feature all of the teams at school equally, some members of the women's basketball team feel that their sport is often overlooked.   
   "I know it isn't the student senate's fault, but recently one of our team members, who is also a student senator, asked [Senate] to promote our game and they only promoted hockey, " McKenna said. "Obviously the Battle of the Fans game was the big focus that week, but we still had two home games this week that no one knew about. We know they have a lot of stuff going on, and that some of them are trying, but it would be nice to see a bit more support from them," McKenna said. 
   The Bleacher Creatures, with the energy they bring to each game, help teams win, as their encouragement instills a sense of confidence in the players on the court.
   "Senate even said in their [Battle of the Fans] video that the student section can help our teams win. That morale and support helps us so much, so when we see nobody we just think that no one really cares about our sport since we don't have that extra encouragement," Hewitt said.
   Hewitt does note that ultimately it comes down to the students as they are the ones who make up the sections. 
  "At the end of the day, people are going to make their own decisions about what game they choose to attend, but at least just publicizing that there is a girl's game and there is an option to go instead of it just being an 'add on' to the boy's games," Hewitt said. 
  Other women's teams have had similar experiences as well. Senior Kaylee Niezgoda is a member of the varsity women's soccer team at school. Last spring, she overheard many hurtful, misogynistic comments made not only about their team but about their competitors as well.
  "[Some students] were calling out other girls on the field and making fun of them which made me uncomfortable. I just know that if I was in their shoes, I would feel awful," Niezgoda said. "They were making fun of how some of the players ran and going after their appearances. I understand that they were trying to distract them, but tearing someone down when they are just trying to compete is not the way to go about that," Niezgoda said.
"
It doesn't do any good to point out these things ever, and it is especially not relevant to how they are performing on the court,
— K. Niezgoda
   The comments made towards female athletes have been growing in severity, and they are beginning to notice. Niezgoda believes that students need to start holding their peers accountable so the student sections can create a positive environment for all athletes.
  "I have heard some of my peers make similar remarks about our own teams, calling players 'flat as a board,' and making fun of their appearances. It doesn't do any good to point out these things ever, and it is especially not relevant to how they are performing on the court," Niezgoda said. "I understand people get angry and caught up in the moment, but it is important for us to realize that we are all still teenagers, and put ourselves in the shoes of the players and to think about how we would feel if people were making these rude remarks about ourselves," Niezgoda said. 
View Comments(1)
About the Writer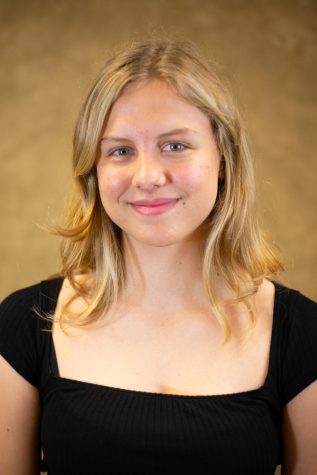 Isabelle Baumann, Local News Editor/Social Media Manager
Isabelle Baumann joined the Occidentalist staff in 2020 as a staff writer and Editorial Board member. Currently, she serves as one of the Occidentalist's...