From Musicals to Governmental Leadership, She Does it All
Senior Lilli Gray has juggled major responsibilities during high school as Vice President of National Honor Society and holding lead roles in Advanced Theater
  Becoming the National Honors Society (NHS) vice president is an honor only one student gets a year. This year, that title went to Lilli Gray. NHS vice presidents have to do a lot of work behind the scenes to keep the meetings running smoothly.
  "There's a lot that goes into all of the meetings and everything behind the scenes that you don't even think about and it definitely helps me with my teamwork skills. You learn how to work with other people in small groups and then bring that to the whole group," Gray said.
  When she's not busy being the NHS Vice President, she can be found participating in the school's newest theater production and even though Gray started off her musical journey with choir, her love slowly evolved to theater over the course of the last four years.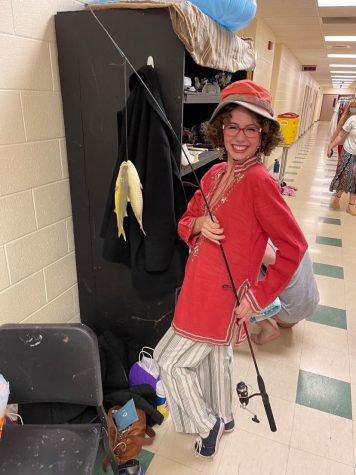 "I was in choir for all of middle school because everyone had to pick a thing, I chose choir and I just kinda stuck with it. I definitely got super excited about [theater] in late middle school and high school even more. And from there it was like, all of my friends were also doing theater and so I was like, 'I'll give that a shot,'" Gray said.
  Due to her involvement in the theater, she was taught by Minda Nyquist, the theater teacher and one of the musical directors. Nyquist has been teaching since 2007 and has been teaching at West since 2015.
"
Lilli is the same person in that she has always been kind, thoughtful, curious, dedicated, loyal, smart, and talented,"
— M. Nyquist
  "Lilli is the same person in that she has always been kind, thoughtful, curious, dedicated, loyal, smart, and talented. If anything, I have seen Lilli's growth as a performer. She has become more confident on stage as well as a better understanding of character development. This year alone she has played three very distinct and different characters and has done each beautifully," Nyquist said.
  When students choose to run for any NHS leadership position, they have to run against lots of other students and the competition is usually very steep.
  "There were a good amount of people who were running so I wasn't overly optimistic about it or anything and it honestly wasn't something I put that much thought into, it was something that I was like, 'oh, that seems like a cool opportunity, I'll give it a shot.' Then I remember we narrowed some people down but there was so many people that everyone had voted for, they did a second round of elections and that was when I was like 'Oh, wait this is something I really want to do.' I was glad that other people maybe see me as a leader and I was excited for that opportunity," Gray said.
  With Gray being involved in so many different extracurricular activities and events. It can cause stress. Students, including Gray, have to be able to balance everything but finding that balance can be difficult.
  "I think being able to balance everything is really important and even though I'm busy with AP classes, I try really hard to balance it out with also doing stuff in the arts that I enjoy. You can't focus on your academics if you're not also having a good time with extracurriculars. Make sure you're making memories outside of academics, balance it all," Gray said.