Danilowicz Goes D1
Senior Wyatt Danilowicz moves onto D1 for baseball at the University of Louisville after committing his sophomore year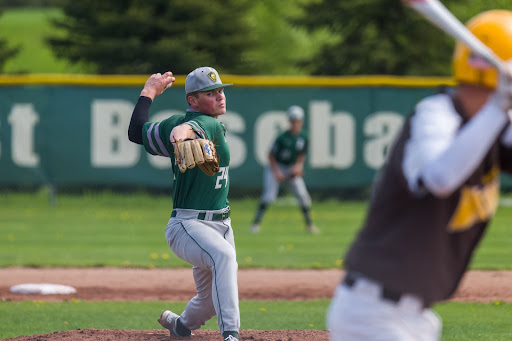 As playoff season approaches for baseball, senior Wyatt Danilowicz comes to the end of his high school career. However, this will not be the last time Danilowicz takes the field. This time next year, he will be in his first season of National Collegiate Athletic Association (NCAA) Division I baseball at the University of Louisville in Kentucky. 
  Committing in January of his sophomore year, Danilowicz has given the sport his all since day one. He began playing baseball at a young age.
 "I started out in tee ball, so I was probably four or five years old. Ever since that, baseball has been my favorite sport and I just continued from there," said Danilowicz. 
  As he moved into high school, Danilowicz continued to show his dedication.
  "What sets him apart from other people is his work ethic in the weight room. He likes to lift, he likes to be strong, and he cares about his body. So he takes care of himself, in that regard," said varsity head coach Matt Bocian.
  Though Danilowicz has been in the baseball program since his first year of high school, complications have hindered his seasons.
  "Wyatt came in as a freshman, and he was an outstanding talent. He was doing all the winter training, and he looked like he would be on varsity. Then he showed up to tryouts and was on crutches because he had knee surgery," said Bocian.
  Following his injury season, the spread of COVID-19 and the complete shutdown of all TCAPS schools left another empty season for Danilowicz. Thankfully, his junior year brought a successful season and good memories.
  "Winning districts last year was crazy. That was a really fun game. I got to pitch and we ended up winning against Mount Pleasant and that was really fun," said Danilowicz.
  As districts approach yet again, Danilowicz has high hopes for his team during playoffs. 
  "Just keep playing as a team. Everyone does their job and everyone tries their best, that's all we can do," Danilowicz said.
  Looking forward, the pitcher and first baseman has great excitement for collegiate baseball.
  "[I'm excited for] the competitive nature and the whole team being a big family. You do everything together. I just can't wait to compete and win," said Danilowicz.