Letter from the Editor
  As the school year ends–my last year as a Titan–I am filled with excitement, anticipation, nerves, and dread. I didn't think I would be this emotional leaving the Occidentalist behind, but here I am. 
  I joined the staff my sophomore year with absolutely no journalism experience. I didn't know what to expect; the only thing I knew is that I would be writing. I applied to be on the Editorial Board during my first year without thinking. It was definitely more of a spur-of-the-moment thing. I enjoyed being on the board, but if I'm being honest, my first year was rough. I almost dropped the class.
  But, Ms. Humphry somehow changed my mind right before COVID hit. I applied to be editor-in-chief and I got the position. Don't ask me how because I honestly do not know why Ms. Humphry decided to give me a chance. But, I am forever grateful that she gave me this opportunity.  
  Fast forward to the beginning of junior year, West is online for the first two weeks of school due to COVID. Here was junior Alyssa, scared out of her mind because she has never been in a leadership position before and now she is starting her journey as editor-in-chief online. For some reason, talking in front of a computer screen is scarier than actually standing in front of a group. 
  Overall, though, junior year was a blur. Between being quarantined for a month and editing the paper from home, to finally getting the website up and running, the 2020-2021 school year for the Occidentalist staff was a rough one. But I wouldn't have it any other way. We all persevered through the unprecedented times and got the job done.
  My senior and final year on the Occidentalist staff was my favorite and best year. We accomplished publishing eight editions this year, something I have never done during my other two years on staff. We had many individuals win awards from the Michigan Interscholastic Press Association (MIPA). We even received a gold medal for our publication. 
  I couldn't have done it without the help of all of our editors (Riley Ashbury, Isabelle Baumann, Anna Childs, Ella Rintala, Anna Sperry, and Will Stanton) and my co-editor-in-chief, Ashley McFadden. I also want to thank our fantastic photo editor, who basically took every single photo for this publication, Ainsley Rosenburg. 
  Becoming the editor-in-chief forced me out of my comfort zone. I have gained so much confidence as a leader and as a person. I have learned how to lead, even though my first year as editor-in-chief was rocky because of COVID. I appreciate all of the opportunities the Occidentalist has given me. 
I will miss the Monday morning meetings and the late nights working in the lab to meet deadline. I will miss seeing all of my friends daily and talking about random things when we know we should be interviewing or writing our stories. I am going to miss everything about the newspaper.
  I have formed an attachment to this publication and I am sad to let it go. But, I know I am passing it on to more than capable leaders and I have faith they will do amazing things with the Occidentalist.  
  Joining this staff was the best decision I have ever made. I have made countless memories and friends and I will cherish them forever. 
  Thank you for the best three years and an amazing senior year.
  Senior Slay.
  Alyssa Masiewicz
  Editor-in-Chief
  2020-2021, 2021-2022
Leave a Comment
About the Contributor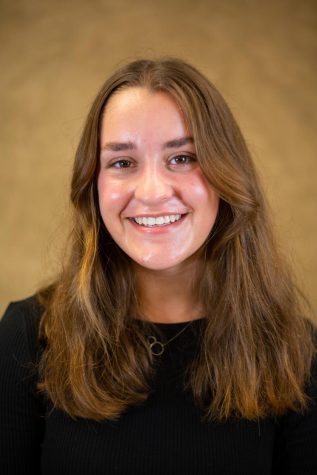 Alyssa Masiewicz, Editor-in-Chief
Alyssa Masiewicz is a senior and has been on The Occidentalist staff for three years now. She was on the Editorial Board her sophomore year and worked...