Best Things to do Over Summer Break
Top activities to plan for a fun summer in Traverse City.
  With summer just around the corner, people are starting to plan their summer activities. With school over and warm weather beginning, finding fun ways to spend the summer can be difficult. Traverse City is full of fun activities, finding them can be the hardest part. 
  The abundance of water all around the town makes for the best beaches. Beaches beyond the bay only get better and better. Even with a bit of a scenic drive, Frankfort and Empire are beautiful beaches with great sunsets. Good Harbor beach also allows campfires, which make for a perfect night roasting marshmallows as the sun sets on the water. Freshman Jenna Beman tells us her favorite beach in town is Frankfort.
  "I love jumping off the pier and going to the ice cream shop there," Beman said.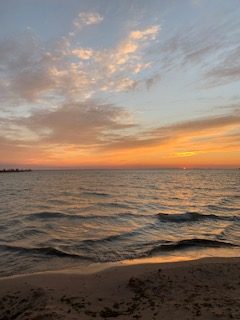 While enjoying the warm and sunny weather, ice cream is a perfect treat to cool down. There are so many options in town, and out of town near other attractions. Leone's is not only in the middle of town but offers amazing ice creams and shakes. Moomers is a local business with some of the best-rated ice creams in town according to USA Today. While enjoying the ice cream, customers can go see the cows that provide the milk for the ice cream. 
  "My favorite ice cream shop is Leone's because they have the best dole whip there," freshman Andria Sylenski said.
  With more free time outside of school, there's more time to spend with family and friends. Going on a hike to one of the many beautiful locations Traverse City has to offer is a great way to make memories together. Empire Bluffs, Treat Farm, and Sleeping Bear Dunes are some amazing options for a scenic hike. Making a family dinner is also a great way to show appreciation for your family. Freshman Maggie Ranger reveals her favorite ways to spend time with friends. 
  "My favorite summer activity is definitely hanging out with friends and going to the beach," freshman Maggie Ranger said.
  Traverse City also offers many activities in itself. These include the Cherry Fest, Film Fest and the Northwest Michigan Fair. These are all great options in town, and even better in the warm weather with family or friends.