Outstanding Teacher Continues her Passion in Theater
Theater teacher Minda Nyquist is awarded with the Outstanding Teacher Award and plans on pursuing acting this summer
  What makes an outstanding teacher? Well, that would be Minda Nyquist, who just recently won the Outstanding Teacher Award. Nyquist is the theater teacher at WSH and not only has she been teaching at WSH for about seven years, but she is also an actor herself and has been acting professionally for quite some time now. 
  "This summer I'm actually working as a hired actor, like a paid professional actor at Parallel 45. So actually Friday is my last day [at school] and I start rehearsals on Monday and we open on June 30th so people can come and see their teacher who yells at them and tells them what to do in two different shows this summer, Cabaret The Musical and The Crucible," Nyquist said. 
  Nyquist has helped so many of her students find a passion for theater and has been a big part of her students' lives by helping them figure out what they want to do with their future in the acting world. 
  "She wrote me recommendation letters and she has been helping me grow into a better actress, which is important because I'm going to college for acting. Minda helped me realize my love for theater. If it wasn't for her, I have no idea where I would be right now. Taking classes with Minda is honestly one of the best decisions I have ever made. She makes my days brighter and she is such a wonderful teacher, and person. I already miss her more than anything," Senior Indigo Hall said.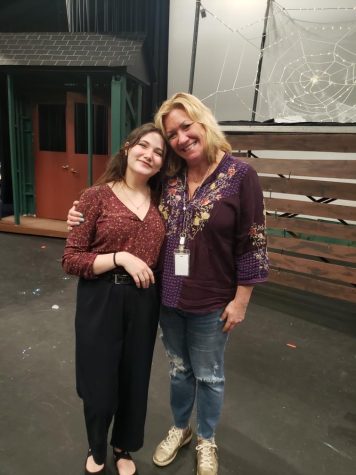 Nyquist was completely taken by surprise when she found out she won the award. She had no idea that she was nominated, but her students felt like she was the perfect person to nominate and well-deserving of the award. 
  "I was completely shocked, and then I found out later that some of my students had written letters to support it and the fact that they tell me everything and they kept that secret, I was pretty impressed," Nyquist said. 
  Nyquist has been a big part of her students' lives and without her many don't know where they would be in the acting world, she really helps push people to do better and be their best selves. 
  "I feel very happy that she got [the award]. She doesn't always get the recognition she deserves, so this is amazing, seeing that she's getting recognized for the hard work she puts in," Hall said.