The Equestrian Team Races to the End of Their Season
An in-depth look into what being a member of the equestrian team is like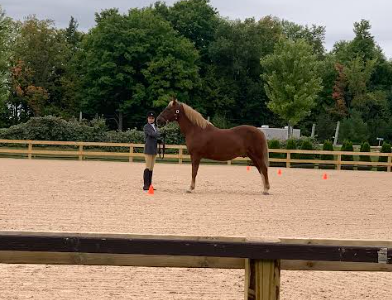 The Equestrian team is a unique club that students can join. The club has many different options for riders, including both English and Western styles of riding. On Sept. 25 and 26, the team competed at the Great Lakes Equestrian Festival (GLEF), and on Oct. 1 and 2, they competed at Regionals in Ludington. 
  "My favorite part is just being able to ride my horse, and being able to see other people who like the same things as me," said freshman Adeleine Fiebing. 
  This year, the team automatically qualified for the Regionals meet, since there were only two B-Division teams (teams of 4-5 riders). They competed against Kingsley High School during Districts, where they came in Reserve Champions (2nd Place).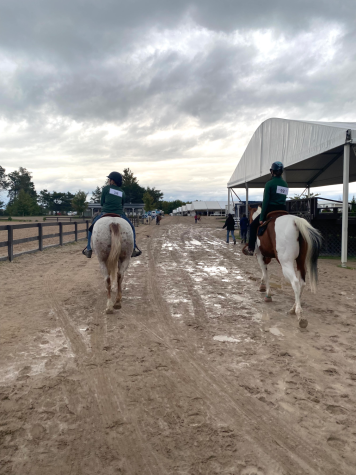 "After finishing as Reserve District Champions, I'm excited to support the team while they compete at the next level. With two Freshman riders and one junior rider, we have a fairly young team. My hope is for the team to gain experience and get a taste of what the next level of competition is like. I'm hoping for a positive learning experience they can set future goals from," coach Alyssa Reardon said.
  Each member has their own unique set of skills that help them to contribute to the team. 
  "[I am] doing a hunt seat equitation class and an over fences class along with speed," Fiebing said.
  Fiebing's specialty is English, which is a style of riding that uses a flat, usually dark-colored saddle. There are many different varieties of English riding, including show-jumping and hunt seat classes. Show-jumping is where the rider and horse have to jump over a series of obstacles in a pattern within a certain time limit. Hunt seat riding is where the rider goes around the ring performing all three gaits–walk, trot, and canter. Junior Grace Moeggenborg rides Western, similar to the way cowboys do in movies. It uses big saddles with a horn on the front. One example of western riding is barrel racing, which is where the horse takes really tight turns around three barrels in a specific pattern. Another competition that takes place is called showmanship, however, showmanship is very different because instead of riding, it is performed on the ground. In showmanship, the rider leads the horse through a complicated pattern on the ground while the judge inspects the horse.
  "I do speed, which is like barrels, and flags, and then the other one is more like, Western [equitation], and trail," Moeggenborg said.
  Trail class contains lots of obstacles that your horse has to go over and around, all in three minutes. Western equitation is simply riding western in a fancy pattern given to you by the judge. 
  While the meets don't last a whole season, riders enjoy their time practicing and racing and the opportunity to bond with their teammates and the horses.
  "[The Equestrian team represents] community. Equestrian is unlike any other sport. After practice you can't just put your equipment away, you are responsible for yourself and another living being. It's hard work, but it is something to be proud of. Being a part of the team gives you the opportunity to show off your hard work, represent your school and meet other horse-loving youth. Please reach out if you are interested in joining, the coaching staff is here to help." Reardon said.