The Football Team Switches Leagues
The football players face heightened competition as they play new teams in the Saginaw Valley League
  The football team has switched from the Big North Conference (BNC) to the Saginaw Valley League (SVL) this year. The schools that the team will be playing this season include Mount Pleasant, Midland, Midland Dow, Bay City Western, Bay City Central, and Traverse City Central.
  "I think that joining the Saginaw Valley League was the right decision in the long run," junior Isaac Kelsey said. "It is a hard initial adjustment, but I think if we play harder competition each year we will continue to get better."
  The team is playing more competitive schools this year, so the players have to work hard and some may remind themselves why they play.
  "I have a lot of things to be thankful for. When I step on the field, I represent myself, but also my family, and my community," Kelsey said.
  As the change of conferences has made an impact on the players, it has also made an impact on the practices.
  "We definitely needed to switch practices, and it has switched. It is a lot more physical. We had a meeting with Coach Vaughan about that. It was definitely needed. It is helping us," senior Sam Tokie said.
  Like most athletes, many football players have a reason to keep showing up to practice and playing in games. 
  "My current motivation is just my team. It has always been about the team for me. Our team's motivation is just keeping the energy up. That is probably the best part about football," Tokie said.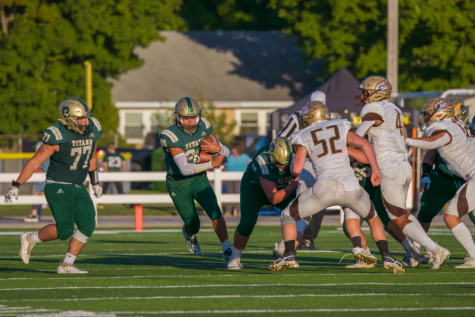 It was a big change for the players however, other than redesigning practices, there hasn't been a significant impact on coaches.
  "The change to the SVL wasn't a huge change for the coaches. Several of the teams in the SVL, we have seen either in games or on film. The level of skill is the biggest difference. The SVL teams consist of more skill throughout the team, or deeper rosters. You cannot make a mistake in the SVL and overcome it as easily," Head coach Gregory Vaughan said.
  The change made an immense adjustment for the team. As the teams are better in the SVL it was still a better change in the long run.
  "[The BNC would not have kept the team in a better position.] I have been down this road before as a head coach," Vaughan said. "We were kicked out of a league, and the result was playing tougher teams and ultimately the program grew stronger."
  There is lots of new competition for the team to adjust to. However, the coach's office still has a high-energy atmosphere.
  "[I am] excited for the challenge and knowing it would prepare us for playoffs better,"  Vaughan said.