Rowing Through Regattas and Passing Goals
The Tritons Rowing team works through obstacles during their first and only home race
  On Saturday, Oct. 8, students were rushing to get ready for the long-awaited homecoming dance, the first one of normalcy since the pandemic. But, long before the sun even came up that day, athletes of the Traverse City Tritons Rowing team were setting up at Medalie Park, checking boats and taking down oars, buzzing with nervous energy as the parking lot filled with trailers burgeoning with rowing shells. The day of the Tritons' home regatta, the Head of the North, was finally here. 
  "I was definitely pretty nervous," freshman Madelyn Leete said. "I've never done a regatta before, so I didn't know what to expect."
  The Head of the North was the first regatta of the Tritons' fall season, so novice rowers like Leete had never raced before, and they were now facing some of the most competitive rowing teams in the state. 
  "A lot of other teams that were here were fast, everyone put out great results," Tritons Coach Chris Bott said. "They're always the teams we want to race against because it's what makes us faster." 
  Bott has been rowing for 23 years and coaching for nine. This was his third year hosting the Head of the North, and that meant he had a lot more responsibility than just coaching that day. 
  "Most of the coaches are running the race, so our team kind of has to manage itself on race day when we host," Bott said. "I think they all did a really good job." 
  One of the first races of the day was the women's varsity single, a sculling boat where there is only one rower with two oars. Just as the sun started chasing away the early morning haze, junior Ainsley Bielman was pushing her boat off the dock, gliding through the dangerously shallow end of Boardman Lake to the start line. 
  "It was a pretty decent day, but the wind was really bad," Bielman said. "I hadn't really rowed the course before, so that was a little nerve-wracking." 
  Even though this was Bielman's home lake, the course was unlike anything the Tritons had practiced with before. Due to a sailing regatta occurring on the other side of the lake, the rowing course took on a sharp, horseshoe curve on the south end, shortening the race length from 3,000 meters to just 2,400 meters. In spite of this, however, Bielman took gold. 
  "I did really well and I felt really confident about it," Bielman said. "It made me feel like my effort just really pays off. You know? All the work I put into the sport, I get it out."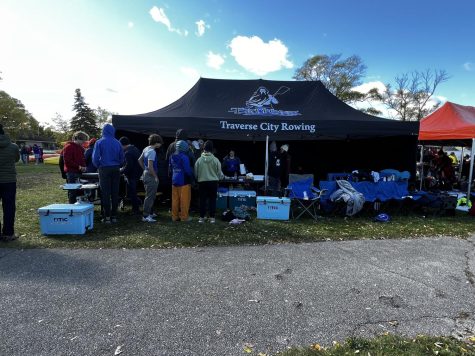 Though Bielman was able to bring in some hardware, the regatta was cut short due to the wind, leading to many of the teams' planned races not being able to get out on the water. 
  "It was kind of disappointing," Leete said. "I would've had another race and I know some of the other girls didn't even get to race once, so it was disappointing."
  Though rowers would've liked the races to continue, the roiling white caps breaking over the dock and rippling across the channel made it clear that it was too dangerous to keep sending boats out. 
  "It's 100 percent safety," Bott said. "When we're sending boats out, if there's even a chance that safety is an issue, we stop putting boats on the water. Keeping everyone safe is number one." 
  Though the afternoon was spent more or less on land, putting away boats and picking up trash, the morning still proved a valuable experience to the Tritons. 
  "It was a long race and I was getting tired, but I knew that we had to finish," Leete said. "I knew we would finish, so we all kept pushing and when we made it to the end, it felt really good." 
  Unlike Leete, some of the team's novice rowers didn't get a chance to race. However, they were able to get on the water the following weekend at Northville Rowing's Charity Chase Regatta in Kensington Park. Now, as the fall season comes to a close, the Tritons prepare themselves for what's to come. 
  "I'm looking forward to improving and just getting closer with everyone on the team, and seeing how we all can get better," Leete said. 
  Though it will soon be too cold to get on the water, athletes are already preparing for winter training, rowing on machines entirely indoors. 
  "[We're] looking forward to winter training because that's when all the speed increases happen for spring," Bott said. "Spring is our championship season, so we're gonna have [the] Midwest [State Championship], our qualifier for nationals. We get some really big races [in the spring]. So, I want to see the team continue to get faster, continue to do what we're doing and get ready for that championship season."
  Bielman certainly plans on giving this training period her all as she plans for her future. 
  "I'm looking forward to improving my times and hopefully working on some recruitment," Bielman said. "I plan on rowing in college, but I honestly just do it because I love it. It's something I look forward to doing every day." 
Leave a Comment
About the Contributor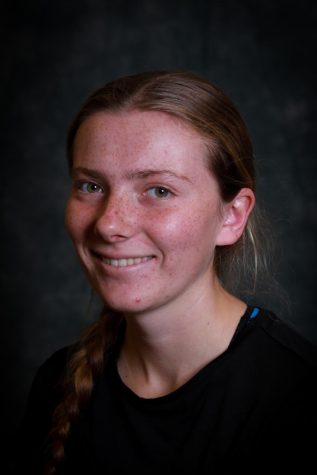 Delaney Cram, Assistant Editor
Delaney Cram is a senior and in her second year of newspaper. She is a writer and took the class to strengthen her skills. Delaney is involved in Math...