The Release of One of the Most Popular Albums of the Year, "Midnights"
Singer, Taylor Swift, has fans crazy over her new album that covers many aspects of her music career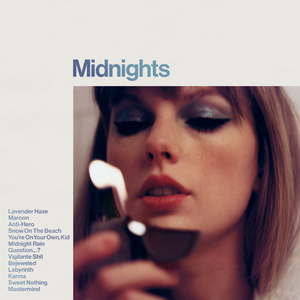 On Oct. 21, at 12 a.m., Taylor Swift released her new 70's inspired pop album, "Midnights," followed by seven other songs released at 3 a.m. Swift started her career by releasing her first album in 2006, "Taylor Swift," and continued to grow as an artist ever since then.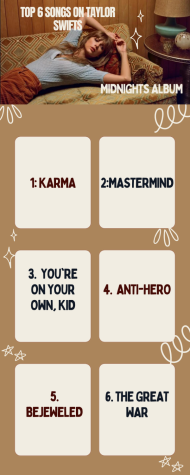 She's explored several different genres in her work, including country, electro-pop, alternative-folk, synth-pop and rock. She also was in several films, such as "The Lorax," "Cats," "The Giver" and her own documentary film, "Miss Americana." 
  Recently, all of Billboard's Top 10 songs are all songs from Swift's new album. The album is written with the idea that each song is its own story, yet the lyrics also reflect Swift's personal accomplishments and struggles. Swift describes it as "the stories of 13 sleepless nights scattered throughout my life." For instance, her lead song on the album, "Anti-Hero," is about her struggle with fame and being in the spotlight. Most of the songs on the album are about themes of love, some happy such as "Karma," "Paris" and "Sweet Nothing," and some sorrowful and nostalgic, such as "You're On Your Own, Kid," "Maroon" and "Would've, Could've, Should've."I decided to listen to all 44 minutes and two seconds of this album and ranked the top six songs from the perspective of a completely unbiased non-Taylor Swift listener. Personally, I think that Swift has released better albums, such as her albums Folklore and Evermore. I'm not a huge fan of pop, and some of the songs sounded repetitive, but the overall mood and tone of the album is exceptional.