Book Review: "It Starts With Us," the End Colleen Hoover's Series
One of the most popular books among young adults has mixed reviews
December 9, 2022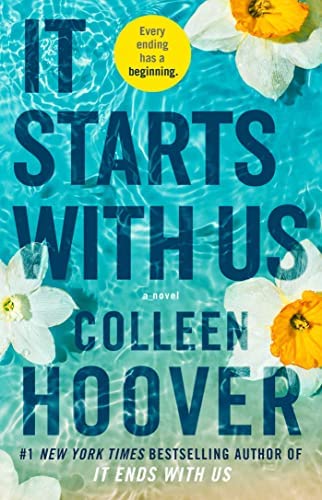 "It Starts with Us" by Colleen Hoover is a thrilling sequel to "It Ends with Us," which gives the story on why the protagonist, Lily, and her ex-husband, Ryle, filed for divorce. After Lily had given birth to their daughter, Emerson Dory Kincaid, she asked for a divorce due to her husband's abusive and manipulative nature.
  At the beginning of "It Ends with Us," Lily reconnects with her first boyfriend, Atlas, while having dinner with her mother and Ryle, who, at that point, was her boyfriend. Atlas was their waiter. Lily had felt some closure after seeing Atlas that night.
  Soon after the dinner, Ryle started to show his anger. The couple had gotten into a fight and Ryle lashed out and ended up hurting Lily.
  The next day, Lily, Ryle, Ryle's sister and Lily's close friend, Allysa, and their brother-in-law, Marshall, went to the restaurant where Atlas worked. Lily was hesitant to go because she was worried how Atlas would react to her abused look from the previous night. As soon as she saw Atlas, he froze and looked at Ryle. Atlas had clearly come to the conclusion that Ryle had hurt her.
  Later that night, on her way to the restroom, Atlas stopped Lily and confronted her. She tried to defend Ryle, but Atlas was not convinced. Ryle then found the two of them talking and Atlas lunged at him, eventually throwing Ryle out of the restaurant.
  The next day, Atlas came to Lily's new flower shop with a gift to apologize for his actions. Before Atlas left, he wrote his phone number on a piece of paper and asked her to put it in the back of her phone in case she needed him to come to save her.
  Everything was getting better; Ryle had proposed to Lily and they ended up eloping soon after. Later, Ryle found Atlas' phone number in the back of Lily's phone. When they were fighting about it, Ryle pushed Lily down the stairs. Once he refused to admit to it, Lily kicked him out. After she forgave him, he found her diaries from when she was with Atlas as a teenager. He threatened her, tried to rape her and hurt her. She was unable to defend herself due to her size and Ryle's strength. Lily then called Atlas after finally getting away from Ryle and they went to the hospital, where she found out she was pregnant.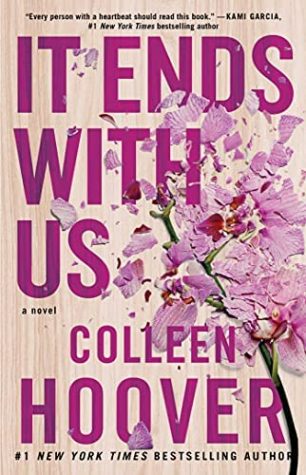 She lived with Atlas for a bit while everything calmed down. Ryle soon found her and told her he was leaving for England for three months. Once Ryle got back from England, she told him. Because of this, Ryle wanted them to get back together but Lily refused. She eventually allowed him to have a parental role in their daughter's life, however, there were lots of restrictions.
  In between the present story, we get to read Lily's diaries from when she was with Atlas and find out that he was living next door to Lily because his step dad had kicked him out of the house. Lily took care of him and they had fallen in love, but then Atlas moved away to Boston. He later came back and told her that she saved his life because he was going to commit suicide but she gave him hope.
  While "It Ends with Us" is a very sad book and doesn't give very many happy endings, "It Starts with Us" is the complete opposite. It shows the love that Atlas has always had for Lily and all the support she got from Atlas while she decided how to handle her co-parenting with Ryle. Their relationship gave me hope for Lily's future.
  At the end of the first book, Lily and Atlas ran into each other in the street and Atlas asked Lily to text him. Once she did, he asked to go on a date but Lily was hesitant because she was worried about how Ryle would react since she had to tell him before she brought any new man around their child, Emerson.
  Atlas, who is a restaurant owner and chef, started getting his restaurants broken into and vandalized.
  Once Lily and Atlas finally go on a date, she brought one of her diaries for him to read. Because of how busy Lily was with her running her own business and being a new mother, she ended up falling asleep on their way to the restaurant. When Atlas noticed she has fallen asleep, he didn't wake her. Once they arrived at the restaurant, he parked his car and pulls out Lily's diary. After he finishes reading it, he pulls out his phone, opens his notes app and writes Lily a letter of his own. When Lily woke up, she realized what had happened and felt embarrassed. After he reassured her, Atlas let her read his letter. At this point, I am already in love with Atlas' character. "It Starts with Us" shows the reader the letter he had written and it's just overwhelming how sweet it was.
  "You're my favorite person, Lily. And now you know why." Atlas says in his letter to Lily (pg. 97).
  After that first date, Ryle started to figure out that Lily was seeing someone. I feel if Ryle had just moved on or maybe even had found someone new, it would have made the book just a little bit better.
  "And if it works out, how will Ryle feel about my new relationship?" Lily writes in her diary (pg. 15).
  Soon after their first date, Atlas got an unexpected call from his mother telling him that his brother, Josh, ran away, but Atlas didn't even know he had a brother. After that call, he pieced together that the vandalization was coming from Josh because his mom had told him that Atlas didn't care about him. This is unrealistic because Atlas is a very caring person.
  "'I didn't know about you until today, Josh. I swear. I would have been around if I had,'" Atlas said to Josh when they first met (pg. 40).
  After a couple of months of taking it slow, Lily had her mom watch Emerson for the night and went to dinner with Atlas. She invited Atlas over to her house, they ended up sleeping together and the next morning after he left, Ryle showed up unannounced, yelling at Lily for having another man over and that he had hurt her again. She texted her mom and told her to meet her at the park because she didn't want Ryle to come to pick up Emerson. Lily then goes with Emerson to Atlas' house. He happily invited them in and let them settle in. After talking about what happened, Atlas looked at Emerson and said, "'This is a hugely significant day, even if I don't see Emerson again for months. This could be the first day I'm spending with someone who might one day becoming my step-daughter'" (pg. 222).
  While Atlas was comforting Lily after her traumatic experience with Ryle, Lily was also supporting him by helping him get full custody of his younger brother. But before he can get custody over his brother, Atlas had to let Josh live with his mother. As Atlas was dropping off Josh, he witnessed his mother beating Josh. He immediately barged in and took his brother outside. After that, Atlas stopped worrying about his mother as much. While he didn't have to worry about his mother, he did have to worry about Josh's father, not because his father wanted him but because Josh wanted to go to his father.
  "'There's this toxic belief that family should stick together simply because they're family. But the best thing I ever did for myself was walk away from them. It scares me to think of where I might be if I had not done that. It scares me to think of where Josh might end up if he doesn't do that,'" Atlas says to Josh when he goes to meet his father (pg. 275).
  Josh ended up going to see his father but decided to stay with Atlas. When they got back home, he finished his family tree project for school.
  "I can draw a seedling with two tiny branches. Yours and mine. We'll be our own brand new, tiny family tree, one that starts with us." Josh says (pg.278).
  After that, Emmerson and Lily move in with Atlas and Josh. Ryle finally accepted the fact that Lily had moved on. 
  Overall I loved this book. It shows how far love can go and to never give up on your passions. Personally, I think this book saved the first book. It wasn't as much of a sequel as it was a continuation of "It Ends with Us." Although I liked the plot of 'It Starts with Us' better, the writing seemed a bit simple. Hoover didn't seem as interested in writing "It Starts with Us." The first book had vivid detail but in this book, the characters weren't described very well. For example, I couldn't really picture Atlas' mom as well as I could the other characters in the first book. The author also brought back Lily's diary entries and I felt like it was kind of repetitive because the letters were just restating what already happened. In some aspects, I get why there wasn't as much new information because "It Starts with Us" is a sequel and we already know most of the characters. I also feel like the author should have said more about Ryle and possibly added his point of view. This would have given more clarity to what had happened with the events involving him throughout the book. I recommend this book if you like romance.