Sneaking In At the Last Minute, "HEROES & VILLAINS," Might Be Best Album of 2022
Metro Boomin's sheer talent along with other artists' is clearly demonstrated in his latest album, "HEROES & VILLAINS"
January 9, 2023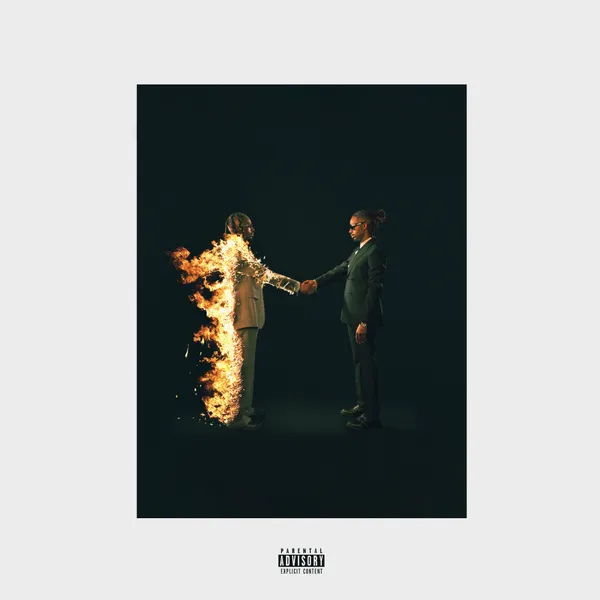 Twenty-nine-year-old American record producer Metro Boomin has successfully made headlines and blown up on social media platforms with his latest album release, "HEROES & VILLAINS." This album pairs with the superhero theme similar to an album he released in 2018, "NOT ALL HEROES WEAR CAPES." "HEROES & VILLAINS" features singer John Legend on the opening track and The Weeknd later on in the album. The featured rappers include Future, Chris Brown, Don Toliver, Travis Scott, 21 Savage, Young Nudy, Young Thug, Mustafa, A$AP Rocky, Gunna and Takeoff, staying with the same circle of people Metro is familiar with.
The opening song of the album, "On Time," with John Legend, is a song preparing us for the following 14 songs on the album by giving us a nice church-sounding piano in the instrumental background. Then the song takes a turn about a minute in with sinister dialogue from Morgan Freeman and then a sample from "The Boys" TV show. Metro shows off his skill in music production by having a seamless transition from the opening song to the second song, "Superhero" with Future and Chris Brown. This transition has been praised a lot on social media. It has been compared to another transition by Metro Boomin on the album, "SAVAGE MODE II," with songs "Runnin'" to "Glock In My Lap."
"Superhero" sets a good tone for the rest of the album. With the slow and calming sound of Future's style of raping, you can easily be caught in a trance, nodding your head to the song. Chris Brown, near the end of the song, doesn't leave much of an impact and when you think of the song "Superhero," you'll forget Chris Brown was even on the song in the first place.
"Too Many Nights" is another relaxing song similar to "Superhero" but with more of a retro 80s vibe to it. Similarly, this song doesn't have too many memorable features to it. Future's influence can be heard in the last 25 seconds of the song before a nice, corny transition into the next song, "Raindrops," with the sound of a thunderstorm in the distance.
"Raindrops" is one of four solo songs on this album and includes Travis Scott's first appearance on "HEROES & VILLAINS." With tone changes in voice and a faster flow that brings up the mood throughout the song, we are handed a classic Travis song, sounding similar to one of his songs from 2016, "Goosebumps," in terms of pacing, but it is a little more laid back regarding the tone.
The following song, "Umbrella," sticks to the rainy weather vibe from the name to the cold-hearted sounding instrumental notes. "Umbrella" is our first time hearing 21 Savage on this album and the only time we see Young Nudy. The song starts with a choir singing and an upbeat piano background before it hits the deeper notes and we get the tone for the rest of the song. Young Nudy speaks a lot in his verse about people being fake friends by using him for his money, which makes it hard for him to trust people in general.
"Trance" is more of a surprise song because it features Travis Scott again and rapper Young Thug who was arrested on May 21, 2021. We stick to the calmer, laid-back vibe similar to this album's previous songs. The instrumental music at the start of the song sounds like a mysterious Dr.Who intro song. The song doesn't leave anything too impactful besides just a reminder that this might be the last time we see Young Thug in the music world.
One of the better solo songs of the album is "Around Me" with Don Toliver who speaks slowly and has a consistent flow. About halfway into the song, we get a nice beat switch to an excellent echoing time travel-like sound. The song is closed out by an inspiring Morgan Freeman speech about heroes and the bravery they have. He tells us they come out of hiding when needed, "Heroes are inspired. Emerging only when needed revealing themselves to the world in a moment marked by realization of their ultimate destiny."
The strongest solo song of this album "Metro Spider" is Young Thug's diamond on this album. The beginning of the song can be a little off-putting if you realize that Young Thug doesn't match up to the beat. We get a short pause before he lines up with the beat drop and starts heading down the right track. Besides the off-beat intro, we get an excellent, catchy chorus that can easily get stuck in your head. The end of the song has a nice transitioning producer tag to the follow-up interlude, "I Can't Save You," which is just a 90-second catchy, faster-paced song with Future and Don Toliver. The end of "I Can't Save You" has 21 Savage in the background with some ad-libs.
"Creepin" is our only sight of singer The Weeknd, with an unexpectedly good duo with rapper 21 Savage. The song starts sadder with The Weeknd sounding like he's talking to someone he's in love with, "Somebody said they saw you. The person you were kissing wasn't me." We get a switch to 21 Savage's verse where he sings instead of his typical low-tone rapping and kills it. The beat switch into 21 Savage's verse is similar to a song he made with Calvin Haris in August 2022 called "New Money."
One of the simplest songs of "HEROES & VILLAINS" is "Niagara Falls" with Travis Scott and 21 Savage going back and forth from line to line. The mumbled intro by Travis speaks about how he's seen a lot of things and teardrop tattoos commonly associated with gang and prison culture. Travis speaks about how common these tattoos are by relating them to a big body of water like Niagara Falls.
"Niagara Falls," with Travis Scott and 21 Savage, is a good song where Travis and 21 Savage go back and forth taking turns rapping line to line. Travis gets to say the chorus for the song and changes his voice from muffled to rapping normally then to semi-muffled and back to normal. Right after Travis is done with the chorus, we switch to 21 Savage's verse for this song. Then Travis takes over for the rest of the song keeping with the same pace and flow as the chorus. When Travis is done, we switch to Morgan Freeman giving a speech about villains and how they're not born and instead created, stating that humans are born naturally good and then can be turned bad over time.
"Walk Em Down," with 21 Savage and Mustafa, starts with a threatening sample of him saying that if you challenge or threaten him, you're going to die. As Gucci Mane fades out, we are immediately transitioned to a bass-heavy beat with a dark murderous tone we're used to hearing 21 Savage use. In 21 Savage's verse, he often speaks about how people try to be friends with him because he has a lot of money. He also touches on his past a little bit in the line, "My brother down the road with a 'xtendo on his shank," referring to the time he lived in London and the high rate of knife crime London has. The second part of the song is like a completely different song that is a lot sadder sounding with a gentle piano. In this part, Mustafa speaks about the struggle of living in the streets and how everyone who lives in it doesn't like the violence or hears about how they've lost another friend to violence, but still commit acts of violence themselves because they feel like they have to.
"Lock on Me" features Future and Travis Scott and doesn't bring much to the table compared to the rest of the songs on the album. It feels like something to just slap in between "Walk Em Down" and the fantastic closure to the album "Feel The Fiyaaaah."
With one of our first times hearing A$AP Rocky in a while and one of the last times we'll hear of rapper Takeoff since his death on Nov. 1, 2022, "Feel The Fiyaaaah" leaves us off on a positive note with the Takeoff verse and the sampled choir in the background. A$AP Rocky starts the song off by referencing Adam and Eve and greed with the lines, "Why we greedy like wolves? Adam, Eve with the fruit," asking why are humans greedy and then answering his question with Adam and Eve as they ate fruit from the tree that they weren't supposed to eat from. The switch from A$AP's verse to Takeoff's verse was an instant, yet smooth transition. In Takeoff's verses, we're shown the creativity and talent lost as we hear him rap the alphabet with every line having a new letter used in alliteration.
The bonus song of this album is "All The Money" with Gunna. We're shown the talent Gunna has as he shows his creativity with lines like "Couldn't play no sports but I went got that sack," talking about how he couldn't play football, still, he got a sack, referring to a bag of money and a sack in football, which is when a defensive player tackles a quarterback.
"HEROES & VILLAINS" is one of the best albums of the year with only a couple of songs that don't live up to the rest. With memorable transitions, the possible last time we hear some of these artists, the reappearance of others and Morgan Freeman's narration that makes some songs sound like an expensive movie trailer, "HEROES & VILLAINS" proves how much of a musical mastermind Metro Boomin is, proving he's the Dr.Dre of our time. In a time where artists usually throw songs into their albums here and there to lengthen their albums, Metro has made all 15 songs exciting and good. I give "HEROES & VILLAINS" a solid nine out of 10 due to the sheer talent and effort put into it and I'm excited to listen to the third album of the superhero trilogy by Metro Boomin.