TCU Lacrosse Unites For Their Possible Final Season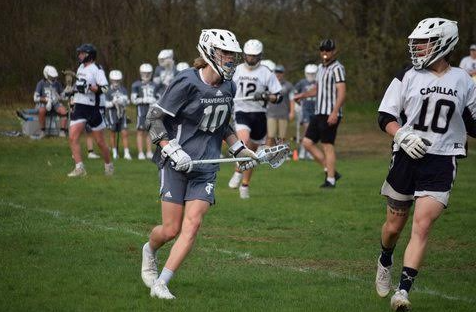 The Traverse City United lacrosse team (TCU) is a team that has both students from Traverse City Central high school and WSH. Lacrosse is still not a very popular sport, so the schools have to unite together to make one team. In the future, the TCU team might see a change in the future and that could impact the team bonding immensely.
  "I think [lacrosse is] great, it forms a brotherhood stronger than other sports even. I feel like with lacrosse [is] so fun [that] it really helps us become friends," junior Connor Swank said.
  The TCU players are super excited for the upcoming 2023 season. They are coming off a very good season. Last year, JV was undefeated 13-0 and varsity went 12-2, so the players are looking to have another successful season. 
  "I'm really excited for the next season, we've been playing with the same team and the same guys since like seventh or eighth grade, so this is at least my final year to put it all together, so I'm excited to see how it goes out," senior Kurt Sheahen said.
  Players are having pre-tryout nerves and are getting ready in a variety of ways.
  "I am very excited to get started. Tryouts are in a couple weeks and I've been hitting the wall everyday getting ready to ball out," Swank said.
  Playing high school sports to win is one of the goals, but another key part of sports are the memories that happen along the way.
  "This is my fifth year playing, and my favorite memories are hanging out with the team and hanging out on the bus rides back from the games," Sheahen said.
  These moments are very special and the players will cherish them forever.
  "My favorite memory from lacrosse was the fight last year against Cadillac during the game and then coming out with the win," Swank said.
  Achieving a goal or hitting a certain milestone can be a very uplifting moment in anything team related.
  "My favorite moment of playing lacrosse is scoring my first varsity goal," sophomore Jack Schripsema said.
  Because the lacrosse team is united by two rival schools, it forms more than friendships. It creates bonds with people they may have never met or people they are rivals with in another sport.
  "I really like the joined teams, I know some people who don't but like it's not bad being with the central guys they are actually pretty cool," Sheahen said.
  Because lacrosse is a sport that is rising so fast, the TCU may not stay united for much longer and the schools may create their own teams
  "I would be a little disappointed at first because all my Central friends, I wouldn't be able to play with them anymore, but it would be fun to have some cross-town rivalry," Schripsema said.