Robotics Team Suppresses Goals, Reaching 15th in Michigan
While preparing and winning awards, the robotics team learns crucial life skills
  Over the weekend of March 4, the robotics team shattered their goals, placing second after the qualifying matches and third in the semi-finals. After the competition, they placed fifteenth in the state and won an Industrial Award sponsored by General Motors. 
  Robotics, like many other clubs, are run like a small business, as the main goal they are trying to achieve is to take small parts to come together and succeed.
  "What we're doing at robotics, everyone has their categories. Business is one, the electrical group that works on components on the electrical side. We have a lead student and a mentor that work alongside each other, and they bring in new kids that help teach those skills, so that one day they would be the next leader, and do the same process on the mechanical side. We have a lot of equipment that the kids use and try to figure out how this is all going to come together mechanically. They have to brainstorm when they're working and collaborating with each other. Mechanical is probably one of our biggest ones, because there is a lot of different things going on during practice," robotics coach and STEM instructor Mark Skodack said. 
  Thinking and brainstorming as a team seems to be a crucial part of the process in building the robot, but it's also important that the team knows how to communicate and collaborate with other teams to win. 
  "Robotics competitions work by having 40 teams come together from all different parts of the state. The competition is a 3-3. Three robots could be a red alliance against a blue alliance. They have to collaborate with each other, the teams are picked at random. In the qualification matches, the teammates change every match. Several matches are qualification rounds where you try to do your best and compete. So the strategy has a lot to do with it, working with the teams that might have better robots than you, or may not have such a great robot. Try to collaborate and work together, work on the strengths," Skodack said.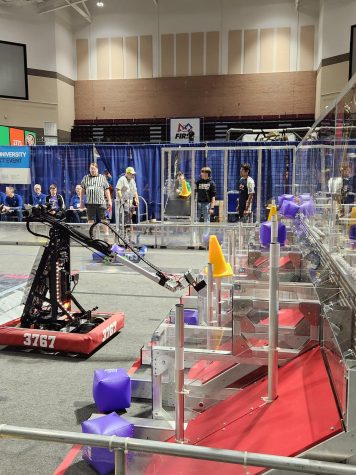 Learning how to collaborate and putting heads together builds important skills for the future and that students will carry with them throughout their career.
  "I saw the impacts that it had on kids and how it prepares them for like after high school. It gets them ready for college, it gets them ready for internships. These are more than life skills, these are soft skills and hard skills that the kids are learning about. And so, trying to get into college, to be successful. The opportunities kids receive is tremendous. I've seen kids from ninth grade to twelfth grade get their internships, and the stories they tell me from college [are] unbelievable. It only strengthens my reasons to continue with robotics," Skodack said.