Making the Most of Staying Local for Spring Break
Staycationing can be something to dread, but there are several activities to look forward to
  Although some people look at spring break as a time to get away from home or go on some sort of tropical vacation, a lot of people actually enjoy just staying home. Some decide to stay because of sports or other commitments, while others just prefer to be in the comfort of their own home during the break.
  "I enjoy being home, just being able to stay in my room, read and watch movies," freshman Skylar Hawkins said.
  When staying home for spring break, there are many things that can help fill the time and make people's regular lives outside of spring break less stressful. For example, setting goals, such as doing the dishes or cleaning, can help make people's day-to-day lives feel less overwhelming. 
  "It lets you do the things where you keep thinking, 'Oh I want to [get that done],' and then you actually do go and [complete tasks that you normally wouldn't]," science teacher Rachel Noller said.
  Many people also take the time to get to explore the local area. A lot of the time, people get so busy with work, school and activities, that they don't actually know very much about their city. Spring break is a great opportunity to just explore some of the lesser known spots, or even just a chance to act like a tourist for a day. By doing this, staying home can feel almost like a vacation in itself.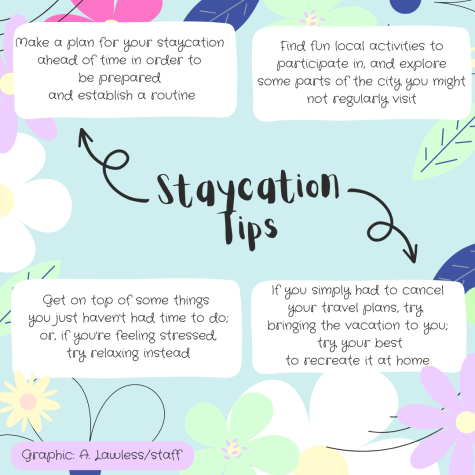 "Our family usually does staycations on spring break, [and we have found] that it's just fun to bop around here. We go out to Leelanau, go out to Elk Rapids, go out to Charlevoix for a day, that kind of thing," Noller said.
  Another reason why people stay home is because of sports. In spring, a lot of sports start back up, and for year-round sports it can be a critical training time, meaning that it would be costly for an athlete to have to miss a week's worth of practices.
  "We have practice during spring break in the mornings [for gymnastics]," Hawkins said.
  Some people prefer to plan out their breaks as it gives them a sense of control over their lives. However, others prefer to be more impulsive, and see where their day takes them.
  "We're more spontaneous, we like to sleep in and then maybe go do something," Noller said.
  Others still will frequent locations that they normally would love to go to, they just haven't had the time. 
  "We like to go on walks and hikes, so we go to the new Boardman Trail around the lake. It's really cool, we [go to] the state hospital, we go shopping, in that underground area down there, it's one of our favorites, " Noller said.
  Planning a vacation can be a really stressful experience, as many things can go wrong along the way. So, some may opt toward staycationing to avoid all the difficulty and panic surrounding travel.
  "I don't see spring break really as like an opportunity to try new stuff, it's more a long break from school, some time to relax. I don't really want to take a frantic trip to the Bahamas, I'd rather stay in my bed all day," freshman Mason Gaye said.
  In addition, people are naturally more comfortable in their own homes, making it seem even better to stay home.
  "It's familiar, it's relaxing, and it's comfortable," Gaye said.