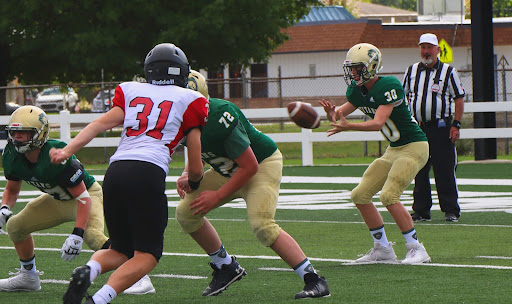 WSH football has been a part of the Big North Conference since 1997, when the school opened. This is the school's second year in the Saginaw Valley Conference. Along with this comes new rivals, new coaches and some new teammates. 
  "There's been several changes in [The Big North Conference] over 75 years including Cheboygan and Sue St. Marie leaving that conference, seven years ago maybe. West and Central were asked to leave the conference for football two years ago. So we had a vote of principals and superintendents and we chose to leave the conference for football only, and we are still a part of their conference for all other sports," athletic director Jason Carmien said.
  The football team is now playing schools that are the size of West Senior High. The big difference is the speed and strength of the other teams, and the players and coaches that are at a higher level than West was used to. 
  "When they took a sample size of how football was going in the conference, they looked at enrollment and TC's enrollment continued to be several hundred students above all other schools in the conference, and continued to win predominantly. I think it was time from the other schools' perspectives for us to play in a conference with similar size schools," Carmien said.
  Students on the freshman football team are prepared and ready to face this new conference with positive outlooks on the change in conferences.
  "Our attitudes towards our games have completely shifted from last year, we've become more prepared and more ready [for each game]," freshman player Max Geer said.
  Players look up to their coaches to lead them in facing this new challenge of the Saginaw Conference. 
  "[The freshman football coach] Coach Stevenson is fantastic. We had him last year and he has been doing a great job," Geer said.
  The new varsity coach, James Wagner, works to make this year one to remember for his players. Coach Wagner is excited to start the year and has been fitting in well when working with his players.
  "I think that I want to be able to establish culture, establish a new brand of what TC West football is, and who we will be moving forward, and I think the goal is always to be able to give are players a great high school experience, being apart of the team, and they should look back on high school football," Wagner said.