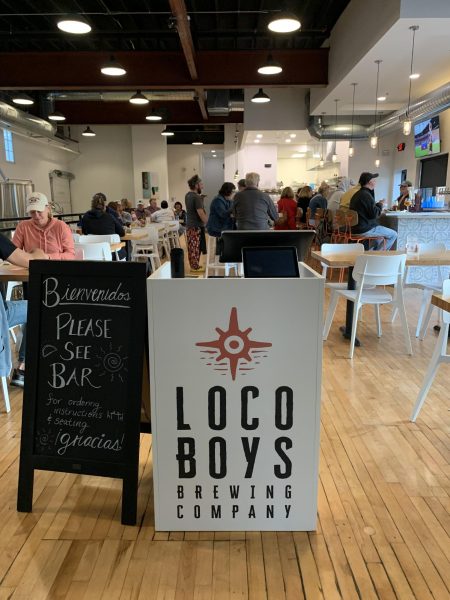 Loco Boys Brewing Company is all about being just a little bit more 'loco' than the next person. Owner Mike Mohrhardt built the restaurant revolving around his Mexican heritage, specifically around his grandmother, who is the major inspiration behind the business. Loco Boys Brewing opened its doors in Feb. of 2023 at 901 West St. and has been growing in popularity since. Loco Boys Brewing operates in an interesting and unique way. Rather than hiring servers to take customers' orders, as most restaurants do, this restaurant allows each customer to do it all themself. From choosing between various unique drink options to placing an order for your entrée, a QR code at each table will direct customers to an online site where they can place their order electronically. It's slightly strange at first, as this type of ordering is not a custom around the Traverse City area, but it's self-sufficient, easy to understand, and organized neatly, with images and detailed descriptions of each menu item. The menu is massive, consisting of countless delicious, authentic Mexican dishes, as well as a draft beer program, led by Andy Largent, who previously worked for Stormcloud Brewing Company and The Filling Station Microbrewery. 
  The menu features multiple different vegetarian, and even vegan, options. It can be frustrating when a restaurant only offers one or two items for those who don't eat meat, however, that's not a problem at Loco Boys. The burrito named 'de verdura' is a great vegetarian option. It is beautifully presented with edible flowers and tastes like a burst of flavors. The churros on the dessert menu are also delicious, they're crisp and sweet and the two sauces that they're paired with compliment them incredibly well.
  Loco Boys Brewing has created an atmosphere that's happy, comfortable, and unlike most restaurants in Traverse City. There's an outside seating area where string lights shine down on tables once the sun begins to set and inside there is a beautiful mural on one of the walls. One downside is that the inside area can get pretty loud during peak dinner time, so try to avoid this time period when looking for a place to sit down in a calm, quiet environment.
  Overall, Loco Boys Brewing seems to be doing immensely well since they opened last Feb. This restaurant is a new go-to place for many Traverse City residents, as it's delicious, not too expensive and a nice atmosphere.