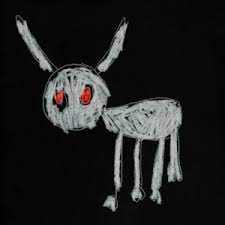 On Oct. 6 at 6 a.m., Toronto rapper Drake released his eighth studio album "For All The Dogs" through OVO Sound and Republic Records. "For All The Dogs" is tied to his debut poetry book, Titles Ruin Everything, which he released in June. This new album is a follow-up to "Honestly Nevermind" which was released in 2022, and his collaborative album with 21 Savage "Her Loss", which was also released in 2022. Both albums reached the US Billboard 200. 
  "For All The Dogs" is a hip hop/rap record with a variety of songs ranging from rap to R&B with soft and melodic tunes. Fans have been anticipating this release since his sneak peek of the album "Slime You Out" featuring SZA, released on Sept. 15. The single quickly took over No. 1 on Billboard's Hot 100 chart. This became Drake's 12th Hot 100 No. 1 and SZA's second in her career. The collaboration between the two artists surprised fans, given the long history between them, and ended the years of back-and-forth hits at each other. The album was originally dated to release on Sept. 22, but due to touring duties and finishing up his It's All a Blur Tour with 21 Savage, which included several new cities and a handful of extra nights for sold-out stops, he pushed the release back. 
  As someone who has always been a big fan of Drake, I think there are a lot of good tracks included in this album, but I also think it could have been way better. A majority of the album has subpar songs. Fans were expecting to hear more songs like his old ones. My favorite thing about this album is the variety of artists included on the tracks, and the snippets of people talking, as well as samples from different artists' songs. From SZA to J. Cole to Chief Keef, each feature fits perfectly with each song. Overall, I think it's a decent album and will definitely grow on me with time. 
"For All The Dogs" songs ranked. 
"Slime You Out (feat. SZA)"

"Rich Baby Daddy (feat. Sexyy Red & SZA)"

"What Would Pluto Do"

"Away From Home"

"Drew A Picasso"

"Tried Our Best"

"IDGAF (feat. Yeat)"

"Bahamas Promises"

"7969 Santa"

"First Person Shooter (feat. J. Cole)"

"All The Parties (feat. Chief Keef)"

"Members Only (feat. PARTYNEXTDOOR)"

"Another Late Night (feat. Lil Yachty)"

"Calling For You (feat. 21 Savage)"

"Amen (feat. Teezo Touchdown)"

"Gently (feat. Bad Bunny)"

"Virginia Beach"

"Fear Of Heights"

"Daylight"

"Screw The World – Interlude"