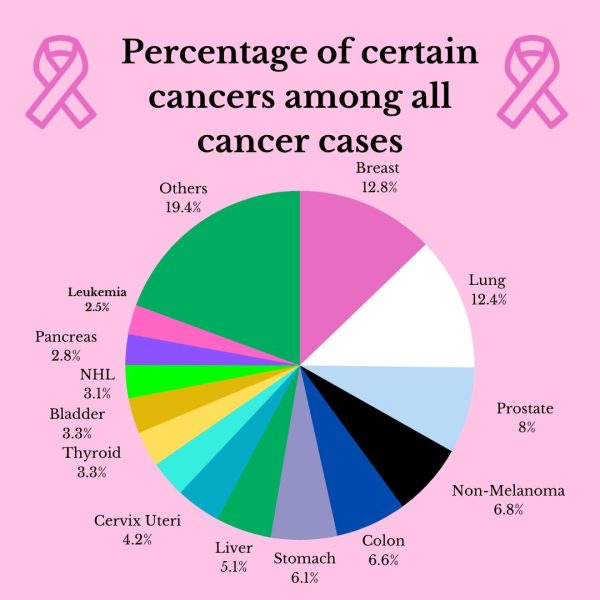 Around our school, many events and activities are in place to help support causes such as cancer. October is Breast Cancer Awareness month, which plays a crucial role in raising awareness about breast cancer, promoting early detection of cancer, supporting research efforts and providing resources and support for those affected by the disease. Other forms of cancer are supported around our school throughout the year, not just breast cancer in October. Many people suffer from cancer or have a family member who has or is going through it. Andy Wares is the principal of the Olympia neighborhood. Wares plays an important role in the school's community, through many different aspects such as helping raise awareness.
  "West Senior High has 15 hundred students this year, which means there are probably about another 3,000 parents, add siblings, add grandparents, add cousins [who have been affected with cancer or other family members. That defines the scope of our community and there are people in our community who have been significantly impacted by relatives or loved ones that have been impacted by cancer," Wares said. 
  One way that the school helps raise funds for breast cancer specifically is through the pink volleyball game. The girls get to wear pink jerseys and play the game they know and love while raising money for breast cancer. In the past, there may have been a specific person the game was raising money for, but this year, it's different. 
  "We do a dig pink game and for the funds, the last couple years it has been somebody [who] actually played West volleyball and one lady I played with back in the day. We took all of the money that we raised and gave it to them, but it is always one night that we pick and anything we raise [gets donated]," volleyball head coach Emily Baumann said. 
  This year the school will have gone head to head against Central on Oct. 25. Not only in the game of volleyball, but also in raising funds for breast cancer. When trying to raise money for breast cancer, supporters can contribute by buying the dig-out pink game shirts, but also the money from 50/50 raffles and the money you pay to walk in through the door to watch the volleyball game. Key Club is a club in our school community that helps to support causes in our community, and is involved with the pink volleyball game. 
  "We have two games the Key Club is associated with raising funds for, the varsity soccer game soccer game and the pink [volleyball] game with Central where we do things like bake sales and write cards for the Cancer Center at Munson. It's important as we want people who are suffering to know they are being supported with financial aid," Madeline Bildeaux said. 
  Another event that is important for raising funds is the varsity football's Pink Out game, which is not associated with Key Club, but is another way to raise funds for breast cancer and cancer overall. James Wagner is the varsity football coach who helps with the Pink Out game. Each of the varsity athletes gets to pick a person with cancer they know and get to wear their name in honor on the back of their jersey. While playing, the scoreboard also plays different pictures of all the people they are honoring that night. The football game raises money from the 50/50 raffles, their pink-out game shirts and the money you pay for when you walk into the field to watch the game. 
  "It's important for us to be able to help out a good cause or people that are in need, and there's a lot of people who are sick and don't necessarily have the funds. We are lucky to have competitive sports and we can use that platform to donate to people who need it. It's bigger than just an event," Wagner said. 
  Supporting breast cancer and cancer in general is a very important thing for our school to take part in, and affects our own community both inside and outside of school. Many people don't know very much about the topic, which is why a lot of schools bring it up to honor those people whose lives are impacted.
  "I think it's more the school creates space and some process for people who feel like there things that should be brought to the attention of other people, to be able to do that stuff inside of the school. l think where as myself as a principal and [principal Joe] Esper and the rest of us sort [of] are in those roles of building leaders would certainly agree that this stuff is important. I think it's more of the case that different groups work to bring this stuff to life," Wares said.