On Nov. 4, 2023 the girls varsity swim team, the Tritons, won their Coastal Conference for the third year in a row. The Coastal Conference took place at Paine Aquatic Center in Manistee, MI. The conference was over two days. The Tritons ended with a score of 534, their hardest competition being Ludi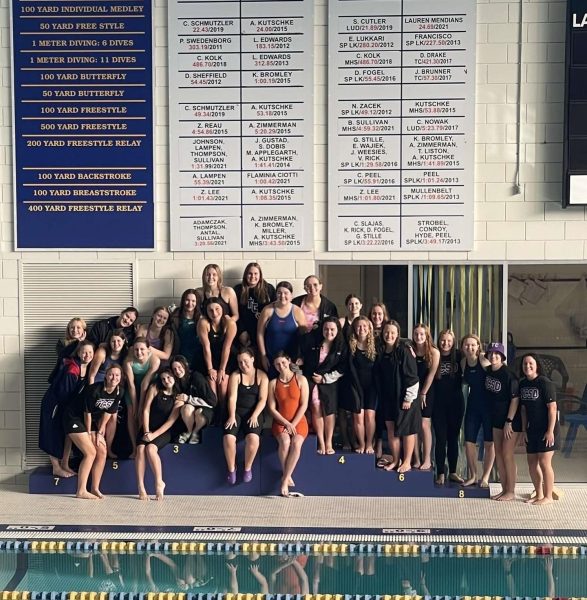 ngton, who finished with a score of 376. The Tritons took home the win and dominated by 158 points. This was a first win for freshman Maeve Schuck, a new swimmer on the team.
  "It was a fun new experience. I was a little nervous but we had been training for this big meet all season so we were all prepared. I'm really glad we were able to go and compete. It's nice talking to other girls on other teams, comparing different experiences and sharing similar points of views," Schuck said.
  Through the season, all of the girls have prepared for two hours every night, five days a week. Through the season leading up to two weeks before conference, they have all had increasingly hard practice. Two weeks before the conference, practices started to get easier in preparation for the meet. Summer Lewandowski is also a freshman who competed.
  "This whole season we have used to prepare for this meet. We have been doing a taper, which is when you swim with more rest and it's not as intense, which makes it so you swim faster at the actual meet," Lewandowski said. 
  The meet consists of two separate days, one for preliminary rounds and the other for finals. Any swimmer who landed in top 16 of a certain event was able to swim that event Saturday, but the top eight were the finalists. Swimmers could move up or down depending on their Saturday swim in their range of eight; 1-8 and 8-16. Swimmers who were not in a certain event created a tunnel for all of the finalists to walk through to music chosen by the one seed of the event. During the meet, coaches, other swimmers and team captains were cheering for their teammates. Senior Petra Wilson, is the Tritons team captain who recently finished her senior season of swimming. 
  "I really liked being captain, there's a lot of things that go into being captain that I didn't know. There's a lot of behind the scenes stuff, so it was stressful as points but overall it was great. This season was really fun and good last senior season, it's bittersweet that it is over now," Wilson said.
  The Tritons swim team gives many girls a chance for a new experience, with many new life lessons not related to just swimming but the outside world.
  "I've been swimming my whole life, I've heard a lot of good things about the high school team which is why I wanted to do it. This season was really enjoyable for me, with many great life lessons. This meet showed me really how much of a team we are and how much everyone really cares about being on the team" Lewandowski said.