Traverse City's Newest Take On Vegetarian Food
Ella Smith, Staff Writer/Business Manager
April 12, 2021
 Hexenbelle is one of Traverse City's newest takes on making good, healthy food. Hexenbelle opened its doors in November 2020. When you first enter the restaurant, one of the first things to catch your eye may be the beautiful pink color scheme including the walls and decor along with the abundance of plants scattered throughout, or the flag on the wall with Palestine, LGBTQ+, and BIPOC all represented in it. 
  Getting started as you look over the drink menu, they have so many different coffee and tea options. If you want hot coffee then you don't have to worry, but if you want something iced, then don't forget your own mason jar, or else you have to pay an extra 75 cents. They also have a kiddie latte which consists of steamed milk and sprinkles, so there's something for everyone. I ordered the chai, which is the original recipe from BLK/MRKT, and the iced coffee. They both were extremely good with the chai being overly sweet and the coffee being very aesthetically pleasing by being served in a mason jar with a green lid. 
  While looking over their menu, every option was vegetarian, which makes it easy to eat if you're following that diet. I ordered the breakfast sandwich and the yogurt parfait. The yogurt parfait was topped with pistachios and granola and was pretty good. The breakfast sandwich tasted amazing being topped with scrambled eggs and a sriracha sauce. 
  Finally, I moved into the more sweet side of things and decided to order some pastries. I got a chocolate chip cookie and a blueberry crumble pastry. The chocolate chip cookie was massive and delicious, the perfect balance of sweetness and chocolate, and it was also immensely buttery. The pastry was also extra big and very yummy. It had the perfect amount of crumble on top to match the sweetness of the berries.
  Another great thing about this restaurant is the fact that they are taking COVID precautions seriously; you have to wear a mask at all times while inside, everything is socially distanced, and they offer outdoor seating so you can still enjoy the amazing view of downtown from the patio. It is located in the warehouse district right across the street from Hotel Indigo and you have an amazing view of the water. There is also a ton of parking around and after you finish eating, you can go shop in the Warehouse MRKT.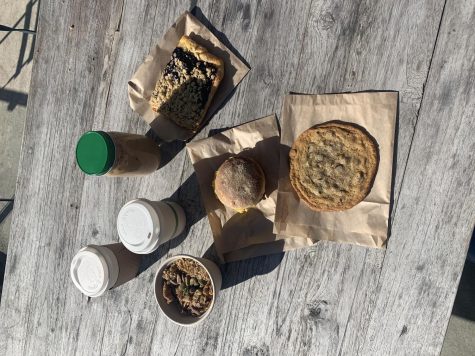 All in all, Hexenbelle is an exceedingly aesthetically pleasing restaurant and the food is good so it makes you want to go back. Another plus is the environmentally friendly efforts they are taking by having the plastic they use tobe completely recyclable and compostable. I definitely recommend you check this place out whether or not you are vegetarian because there is definitely something for everyone.