Harry Styles Concert: a 'Golden' Experience
  Eighteen months after the originally scheduled dates, Harry Styles fans are finally getting the chance to attend his Love On Tour. Styles was only able to perform a few tour dates in Europe for his album "Fine Line" before, like the rest of "normal" life, it was forced to cancel to prevent further spread of COVID-19. Dates were rescheduled to start in August 2020 but were pushed back a second time to September 2021. 
  On Monday, Sept. 20, several West students and staff took the opportunity to attend the concert at Little Caesars Arena in Detroit. 
  "It was definitely special," senior Erin Keenan said, and it likely felt especially so after months of social distancing and restricted event sizes.
  According to Administrative Assistant Margo Hellem, who attended the concert Monday with her daughter, sophomore Ava Hellem, the anticipation for the concert seemed to be heightened because of its delay and potential cancellation. 
  Concert-going was definitely not the greatest loss of the pandemic. Nevertheless, the return of live performances incites excitement for many. 
  Still, there are notable differences between current live shows and pre-pandemic concerts. Love On Tour attendees were required to show proof of vaccination or provide a recent negative COVID test in order to enter the facility. Once inside, masks were required. Audience members noted Harry's voice in an announcement before the show, in which he reminded everyone to wear their mask, adding playfully, "I've always found that you can tell the most about a person from their eyes anyway."
  Coincidentally, Keenan noted that when Styles was on stage, his green eyes were shockingly "sparkly," shimmering almost as much as his sequined slacks that evening. Yet, his inspiring sparkle is not only superficial. Styles' music is infused with messages of unity and love, exemplified in his uplifting song "Treat People With Kindness."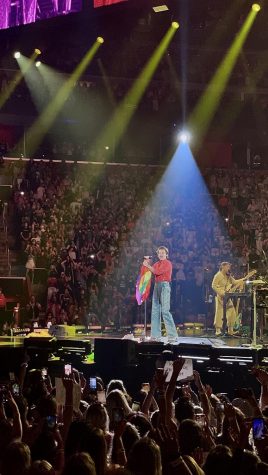 Styles' warmth ultimately defines his appeal. When asked what drew her to attend the concert, Ava Hellem explained, "I really like his personality and the message he gives out about being yourself." 
  In Styles' own words from the evening, "Be whoever it is that you are. . . if we have each other's backs I think we'll be alright," a sentiment especially precious after not having the opportunity to be physically present with many friends and family for so long.
  Based on the positivity of this concert experience, the often talked about new normal post-2020 may be one in which people are more eager to seek out communities and experiences surrounding love. 
  Margo Hellem said, "The mood for the whole entire time was a very welcomed change from what we've been doing with all of COVID."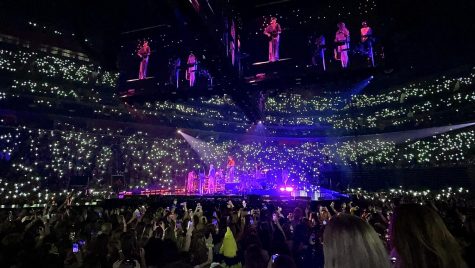 The shift from isolation to sharing happiness with a packed stadium of people was clearly therapeutic. For Margo Hellem, the best part was witnessing her daughter's delight, a rare emotion during the gloomy pandemic. 
  "The joy that my daughter had was something that was almost palpable," said Margo Hellem. "[I wanted] her to have that feeling all the time."