Review: The Big Salad, Opens for Business Downtown
  The Big Salad is Traverse City's newest restaurant that offers soups, smoothies, salads, sandwiches, and more. The restaurant is part of a chain, and opened on Oct. 21, in downtown Traverse City. Located next to The Good Bowl, The Big Salad provides healthier alternatives to fast food.
  In a Subway-style service line, the restaurant has an expansive selection of vegetables, meats, nuts, fruits and other toppings to choose from.
  We ordered two salads, a sandwich, and a soup. The staff was patient and accommodating as we took our time to survey the menu. The restaurant was clean and quiet and would be a perfect spot for studying. We decided on the Cobb Salad, the Bravocado salad, the Caprese Sandwich, and the Broccoli Cheddar soup.
  The Cobb Salad was a mixture of the chain's rocket romaine, turkey breast, bacon, egg, avocado, tomatoes, blue cheese and an Italian herb dressing. However, the salads fell short of the name "The Big Salad." The Cobb salad was quite small, and could probably be considered a side salad. Adding onto this, the toppings were sparse and there were no eggs on the salad despite the description on the menu. For the whopping price of $15 (with tax), the Cobb salad was nothing exceptional.
  The Bravocado salad was an aesthetic blend of Romaine lettuce, cucumber, tomato, cilantro, spinach, croutons, red onions, and, of course, avocado. The beautiful salad's only flaw was its dressing—sour cream. The heavy, tart taste overpowered the diverse flavors of the salad and made it difficult to finish. Totaling to $9, the salad is worth it if you can swap the dressing for something that isn't as strong.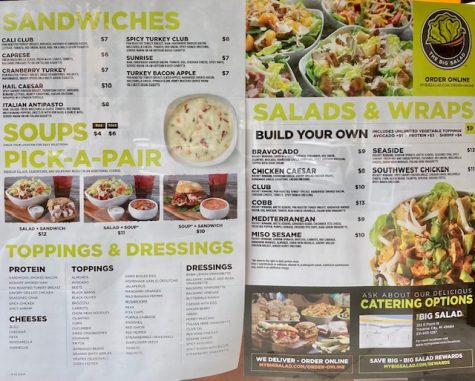 Taking its own spin on classic Caprese, the Big Salad offers a Caprese sandwich for $6.95. The sizable sandwich consists of mozzarella cheese, tomatoes, fresh basil leaves, a house balsamic, all on Italian bread. Served cold, the Caprese sandwich's price is reasonable for its size, but not its minimal contents.
  With the cooling temperature, a good cup of warm soup is a necessity. The Big Salad offers various soups, including a broccoli cheddar. Sticking with a classic interpretation of the soup, they pair nicely with sandwiches and salads. A 'baby bowl' of soup, which is a side, totals $2.49, which is reasonable for its size. Want more than that? The full-size soup is $5.49 but feels like too much as a side order.