Ski Team Legend
Junior Aiden Lewandowski Balances his time competing across the country with his school work
  While continuing his skiing career, junior Aiden Lewandowski strives towards his education to help maintain his position on the skiing team. While Lewandowski spends most of his time out of school, going to skiing competitions all over the United States, you would think there would be a lot of struggles with education, but not for Lewandowski.
   "I try to keep all distractions away from me when I'm doing schoolwork, and just get it all done as fast and well as I can," Lewandowski said. "The key to my successful schedule is time management and organization." 
   Skiing is an important part of Lewandowski's life and there's nothing more that he would love to do in his free time rather than to ski. This year will be Lewandowski's eighth year of skiing and each year he has grown more from the previous year.
   "I saw my neighbors skiing in their yard one winter and told my parents I wanted to try it, and then once I realized how much I liked doing it I decided to dedicate more and more time to skiing," Lewandowski said. "Since I got into the sport late, I was always at the back of the pack when I first started, so always having someone better than me whom I could chase is what really pushed me. From the second I put my skis on for the first time I knew I was going to love doing this sport, and I still do to this day."
   Not only does Lewandowski's love for skiing help him improve and grow, but it also wears off on others and inspires them to do what they love most. Someone he can thank for that is ski team coach Libby Shutler.
   "Aiden is joined by a talented group of juniors, Remy Schulz, Andy Hill, and Ben Lober. These boys have raced together since middle school and are great friends. The younger athletes look up to all of the boys and all hope to ski like Aiden. Aiden and all the upperclassmen are great leaders and role models," Shutler said.
   Being a part of the ski team, including the coaches, plays an important role in the student-athletes lives. How everyone manages to help each other out could affect their whole skiing careers and attitudes when they are skiing.
   "I think Aiden helps the team out a lot. He knows how to bring everyone up and he encourages
the whole team," freshman Lila Warren said.
   Lewandowski plays an important part of his team, as you can tell, and he thinks he has worked very hard towards where he has rate now and deserves all of what is to come.
   "Yes, Aiden is an extremely talented ski racer, one of the best in the midwest," Shutler said
Along with one of the ski team's coaches' opinions on Lewandowski we turn to the rest of the ski team who are unfortunately not in the same position as Lewandowski but still strive towards their goals.
   "I definitely think he has worked really hard for it and that he should be happy where he is," Warren said.
   As Lewandowski grows on becoming a great skier so does his love for sports. He will continue to grow and never stop because his challenges are just gateways to the next level up.
  "If the opportunity to ski at the highest level presents itself, I would love to capitalize on it. But a lot of work is going to have to be put in to get to a place where that is possible," Lewandowski said.
Leave a Comment
About the Contributor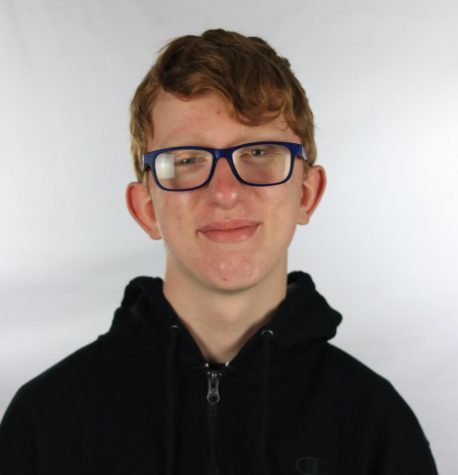 Austin Davis, Staff Writer
Austin Davis is a freshman and this is his first year in newspaper. There's nothing more enjoyable for him than reading a story he wrote himself. He...