Goodbye Through the Phone
   "I'm not very good, but giving it my best fight," was the last text message I've ever received from my grandma Carole on Oct. 22, 2020, just four short days before she passed away due to COVID-19. 
   On Oct. 10, my cousin and her fiancé got married in the backyard of my Uncle Tim's home. It was a fun night. There was cake (obviously), dancing, and a night of forgetting what was going on in the world before everything went downhill so quickly. 
   At the wedding, my grandma and I created a new goal for her, something for her to look forward to and to be excited about. For a while, it was my cousin's wedding, before that it was my brother's graduation, and now we were planning on her being at my graduation in 2022. 
   "You've seen all of your grandkids graduate, I would really like it if you decided to stay alive for at least another two years before you decide to, uh, you know, leave," I told her. "I mean, it's only two years away, and you've sat through them before so what's one more going to hurt?"
   And so it was decided, her next goal was to make it at least two more years, to my graduation. 
"
And so it was decided, her next goal was to make it at least two more years, to my graduation.
———
   Four days after the wedding, on Oct. 14, my grandma became sick. She brushed it off, as she usually does, assuming it was a small cold or allergies from the outdoor wedding. We all just assumed that was it. After all, she was a former registered nurse with a master's degree. Who were we to question her?
   On Oct. 16, my dad went to pick her up from her house to stay with us so we could help her. I saw her briefly, for the last time — standing six feet away from the bedroom door just in case she had COVID — before I was sent to my aunt's house to avoid being exposed. She looked tired and that scared me. My grandma Carole was the most stubborn person you will ever meet and seeing her look that way, almost defeated, was something I have never seen before. Out of all the times of her being rushed to the hospital, due to heart and breathing problems, she never looked like that. 
   Carole Masiewicz was never one to complain about anything, but when she complained you knew something was seriously wrong. She was Super Woman to me. She raised four kids practically on her own. She went back to university to get her master's degree in nursing. She beat breast cancer. She was the head of the nursing department down at St. Mary's hospital in Grand Rapids. She was the vice-president of the hospital while they found a replacement. She was in and out of hospitals, having several close calls, but never letting it happen. She was a fighter, and I have never met a more determined and strong person. 
———
   On Oct. 21, just one week after getting sick and diagnosed with COVID-19, she was admitted to the emergency room at Munson Medical Center in Traverse City.
   On Oct. 22, she started to get plasma antibodies and antibiotics. Her oxygen levels were very low. My mom texted me saying, "She is very sick. I keep praying for her. That is all we can do. Say some prayers for her." So, I did. 
   On Oct. 23, things were not looking any better. The hospital was doing all they could for her. She was on the most oxygen they could give her, and the next best thing they could've done for her was put her on a ventilator, but she did not want it to have to come to that. I got another text from my mom, "If her breathing doesn't improve, they are running out of options for her."
  I was in a state of disbelief. I didn't know what to think, all I remember was feeling my chest tighten. I was still at my aunt's house, and my grandma Carole was her mom, I didn't want to bother her. I wanted my mom, but I couldn't see her as she was exposed by my grandma. I didn't really know what to do. How could Super Women not be doing any better? How could she be leaving us?
   No one gave me any information about how my grandma was doing on Oct. 24 and Oct. 25. 
   On Oct. 26, I got a text from my mom, "If you want to call grandma's phone and tell her you love her, call it. Uncle Tom will make sure he holds up the phone to her ear."
   I wasn't going to call her. I didn't know what to say. What do you say to a person you are never going to see again? I didn't want to cry if I call her because what if that makes her feel bad? That was the absolute last thing I would want to do. I sat there, on the bed after online school, in shock, not wanting to accept the fact that my closest grandparent was about to leave. 
   I then thought about how my grandma must've been feeling. She told my aunt repeatedly that she did not want to die alone. And while she had my Uncle Tom (the only person in the Masiewicz family that was not in quarantine at the time), who flew in from California to be with her in her last moments, it is not the same as being able to see all of your children and grandchildren one last time. 
   I called her. The phone call lasted only 22 seconds. It was the worst phone call I've ever made. I told her I loved her and I was going to miss her. I am glad I did. She passed away only one hour and 15 minutes later. 
———
   The COVID-19 vaccine became FDA approved for emergency use on Dec. 11, two months after she passed away. It is frustrating, to know that two months after her passing there is a vaccine for the disease that killed her. I just know grandma Carole would be first in line to get her vaccine, happy to be able to see her grandchildren more now that she has it. Sadly, that's not the case, but I know she is smiling up in heaven knowing that her kids and grandchildren will eventually be getting it. 
   My grandma will still be at my graduation, she will accomplish her final goal. She'll be walking across the stage with me, smiling. 
View Comments (2)
About the Contributor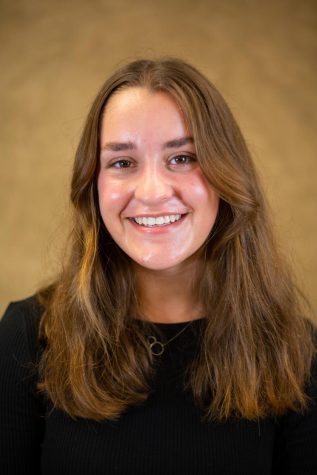 Alyssa Masiewicz, Editor-in-Chief
Alyssa Masiewicz is a senior and has been on The Occidentalist staff for three years now. She was on the Editorial Board her sophomore year and worked...