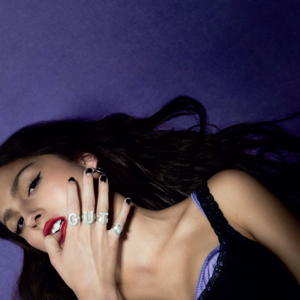 On Sept. 8, 2023 Olivia Rodrigo released her second studio album "Guts" via Griffin Records. This is Rodrigo's second No. 1 album after "Sour" was released in the spring of 2021. Her debut album made her an instant star. 
  "Guts" is a pop record that contains energetic songs with soft ballads. In June of 2023, Rodrigo released her lead single of the album "Vampire", followed by "Bad Idea Right?" in Aug. 2023. "Vampire" quickly went viral after it became her first song since her previous album. "Vampire" became Rodrigo's third hot 100 No. 1 after "Driver's License" and "Good 4 U."
  There is a rumor that "Vampire" is about Zach Bia (Rodrigo's ex). They cut it off last Aug. after months of dating. After the song dropped, fans automatically made connections this song was about Bia. With the lines "Six months of torture you sold as some forbbiden paradise," "I loved you truly, gotta laugh at the stupidity," and "Bleedin me dry like a goddamn vampire." It also hinted about how much older Bia was in the lines, "Went for me, not her cus girls your age know better."
  Following the album release, starting in Feb. of 2024, Rodrigo announced she will be going on tour in the United States all the way to Europe, ending in Aug. of 2024. The Breeders, Chappell Roan, PinkPantheress and Remi Wolf will be the opening acts for Rodrigo on tour. 
  On Sept. 12, 2023 Rodrigo took the stage at the VMAs performing "Get Him back!" and "Vampire" for the first time live. Fireworks and a light show knocked down her performance just like what happened in the "Vampire" music video. Rodrigo won Video of the Year, Best Pop, Best Cinematography, and Best Editing all for "Vampire." 
  What I love about Rodrigo is that she will give you all styles of music. From the angry upbeat tone she has to the soft and emotional lyrics, all of them are easy to relate to. Rodrigo proves that she has a voice that is here to stay. Throughout the 39 minutes, the 12 track album is perfection. I decided to rank the whole track list from my favorite to least favorite. 
"all-american bitch"

"pretty isn't pretty"

"vampire"

"get him back!" 

"making the bed"

"logical"

"the grudge"

"ballad of a homeschooled girl" 

"bad idea right"

"lacy" 

"love is embarrassing" 

 "teenage dream" 
  Now here is what the overall public rank the songs. The title track "vampire" would overall get that number one place because it was the first song released of the album and most popular. While I love more of the slower more emotional songs, the public likes the upbeat faster ones. 
"vampire" 

"all- american bitch"

"ballad of a homeschooled girl" 

"teenage dream"

"pretty isn't pretty" 

"making the bed"

"love is embarrassing" 

"the grudge" 

"bad idea right"

"Lacy"

"get him back!"

"logical"