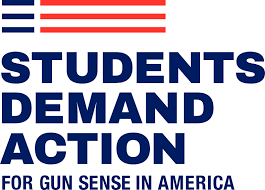 Moms Demand Action (MDA) is a national organization started in Indiana by Shannon Watts. The organization has increasingly spread since the Facebook page was created in 2012, and it's found its way to Traverse City through multiple groups. Through MDA, a new counterpart group, Students Demand Action (SDA) has formed. The two organizations help and support each other as they fight against gun violence both locally and nationally.
  "We have chapters in all different states and Washington, D.C. Within those chapters, there are local groups. The groups are founded by volunteers like myself. Our group was started a little bit before 2017, before the Parkland shooting. When people have had enough and want to do something on the local level, they form anywhere in the state. [For SDA] we have a group at Central, West and a newly formed group in Interlochen," said MDA member Megan Wick.
  The newly formed SDA club at West collaborates with the MDA group in Traverse City, and they got their start thanks to them. Although the movements are slightly different, the bases overlap.
  "At the beginning of the summer we met with them, and they really helped us develop ideas on how to draw people in. They told us we are welcome to do our own thing, as it's an independent cause, but they also said that they would be here to support us with the projects and collaborations we do. They've really just been like moms," said junior and club president Andie Nicolau.
  Both moms and students join these organizations for various reasons. However, the overarching theme is connected to the goal of ending gun violence in not only Michigan, but all of America as well.
  "I'm passionate about advocating against gun violence in schools because my sister was a victim herself, and I feel as if I shouldn't need to worry about being in that sort of situation. My sister was at Michigan State and had friends who were in the building where it started. It made me realize that it can happen to me," said sophomore Eva LaCross, an SDA member. 
  However, there are a number of things community members and students can do to speak out against gun violence and prevent it. For instance, on October 18, 2023, SDA and MDA will have a showing of the movie "After Parkland" at the State Theatre. After the movie, there will be a student-run discussion panel. Tickets are available for $10 each at stateandbijou.org or at the door, based on availability. Student tickets are free.
  "We are welcoming students to attend [the movie] for free. Those are the activities we're doing locally, but students can get involved at the state level or federal level by contacting legislators and advocating for common-sense gun laws. Just last year we passed a red flag law, expanded [a] background checks law, and passed a secure storage law," said Wick.
  Members of the club will continue to fight for anti gun-violences as the club expands at West and in the community. 
  "It's not about how you survive a shooting, it's more about the fact that we shouldn't be in that place. Obviously, this is something we have to deal with in the US, but my goal is not making it as normalized. You can always say things and post things, but it doesn't really do anything," said Nicolau.